Salisbury Steak & Smooth Tomato Gravy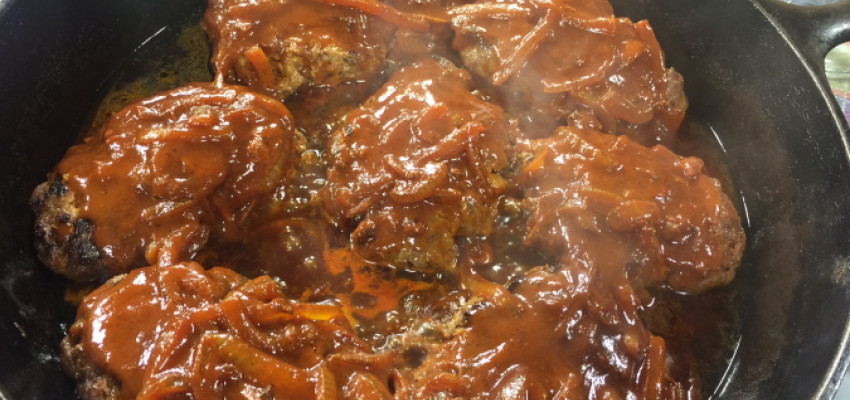 Ingredients
Salisbury Steak
2 lbs. lean ground beef
2/3 cup seasoned bread crumbs
1 Tbs. spicy brown mustard
2 Tbs. heavy cream
1 beef bouillon cube and 1 Knorr chipotle cube dissolved into 1 Tbs. hot water to make a concentrate
1 tsp. Worcestershire sauce
1 Tbs. chili sauce
1/2 tsp. red pepper flakes
1/2 tsp. black pepper
olive oil and butter, equal parts, for browning salisbury steaks
Gravy
1 small yellow onion, thinly sliced
2 Tbs. tomato paste
1/2 tsp. Worcestershire sauce
2 cups beef broth
1/2 cup beef broth combined with 2 Tbs. cornstarch to make a slurry
kosher salt and freshly ground black pepper, to taste
Instructions
In a large mixing bowl, gently combine beef with bread crumbs, cream, mustard, bouillon concentrate, Worcestershire, chili sauce, red pepper flakes and pepper.  When all ingredients are well combined, form mixture into eight oblong patties, using your thumb to make two to three  indentations across the top of each pattie. 
Meanwhile, heat oil and butter in a large cast iron skillet over medium high heat; when fats are sizzling nicely, add patties a few at a time, browning on each side until "crusty,"  then continue to cook three to four minutes on each side and no pink remains at the center.  Move patties to a plate to keep warm; continue to cook the remaining patties.
When all patties are cooked, add onions and tomato paste to pan drippings and cook over medium heat until tomato paste has turned more brown in color and onions are softened, approx. 8-10 minutes.  (If this mixture becomes too thick, add a bit of broth as you are cooking). Stir in beef broth, Worcestershire and slurry; bring to a simmer to thicken, then season to taste with salt and pepper.  Nestle prepared salisbury steaks into gravy, spooning some over the top; simmer for two to three minutes longer, then serve over mashed potatoes or cooked, buttered egg noodles.
Want to learn more about beef? Visit these pages:
Looking for tasty beef recipes? Try these!
---