Asian Ground Beef Lettuce Wraps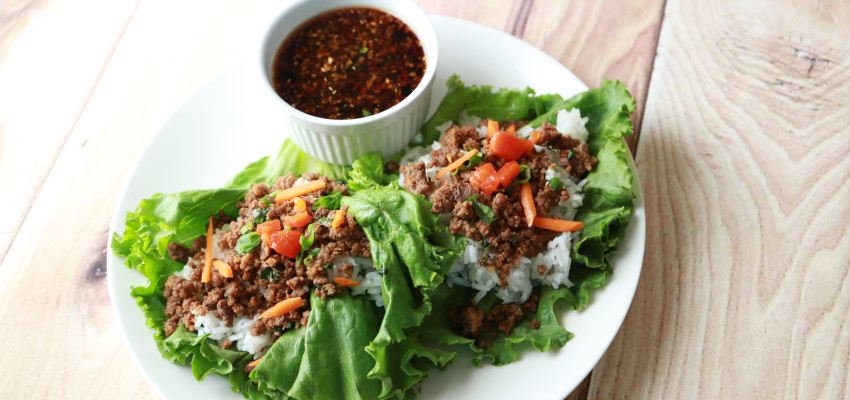 Ingredients
1 lb. lean ground beef
2 garlic cloves, crushed
1 Tbs. sesame oil
1 tsp. chili powder
1/4 tsp. red pepper flakes
1/4 cup packed dark brown sugar
1 tsp. fresh ginger, grated
1/4 cup soy sauce
1-2 Tbs. chopped fresh cilantro
4 scallions, green parts only, sliced
cooked rice
lettuce leaves
carrots, diced
tomatoes, diced
 
Dipping Sauce
3 Tbs. soy sauce, may use low-sodium soy sauce if preferred
2 Tbs. rice vinegar
2 Tbs. sweet chili sauce
1 Tbs. minced cilantro
2 cloves garlic, crushed or minced
3 scallions, green parts only, chopped
1 tsp. sesame oil
1 tsp. grated ginger root
Combine all ingredients in a small bowl and serve. Dipping sauce will keep in the fridge for up to five days.
Instructions
In a large skillet over medium-high heat, brown the ground beef and garlic together, crumbling and cooking the beef until it is no longer pink and fully cooked throughout.
Reduce heat to medium; add the sesame oil, chili powder, red pepper flakes, brown sugar, ginger and soy sauce. Simmer the beef mixture for five to six minutes or until most of the liquid in the skillet has been absorbed; remove from heat and stir in the cilantro.
Serve the warm beef mixture along with the rice, tucked inside the lettuce leaves. Top with scallions, carrots and tomatoes and enjoy with dipping sauce.
---