Meatballs and Fresh Basil Tomato Sauce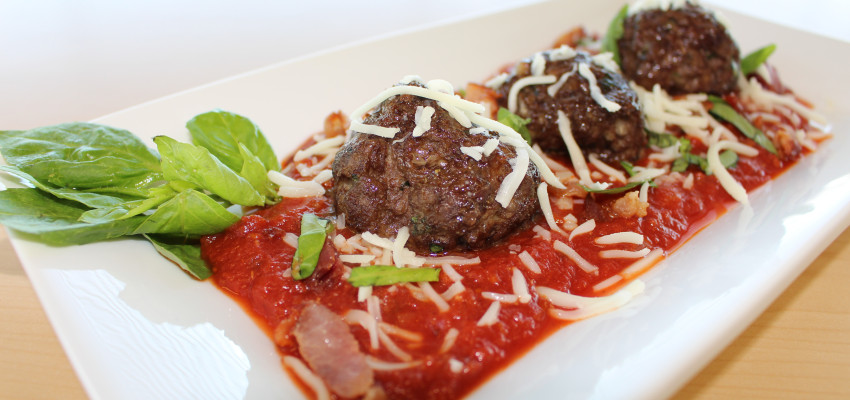 Ingredients
Sauce
4 strips bacon
1 small yellow onion, diced
2 cloves garlic, minced
28 oz. crushed tomatoes
1/3 cup minced fresh Italian parsley
1 Tbsp. granulated sugar
½ - 1 tsp. red pepper flakes
¼ cup fresh basil, chiffonade
Kosher salt and freshly ground black pepper, to taste 
Meatballs
16 oz. ground sirloin
1 egg
1 tsp. dried parsley
¾ cup grated parmesan
½ tsp. fennel seeds
1 slice white bread, torn into small pieces
Kosher salt and freshly ground black pepper, to taste
Parmesan cheese, for garnish  
Instructions
In a large mixing bowl, combine sirloin with egg, parsley, parmesan, fennel seeds and bread; mix well, then season with salt and pepper. Shape mixture into meatballs approx. 1 ½ -2 inches in size and place into a greased baking dish. Bake for 20 minutes in a preheated 450 degree F. oven, until nicely browned. 
In a saute pan or skillet, cook bacon until crispy over medium-high heat; remove to a paper towel-lined plate to drain. In bacon drippings, cook onion over medium heat until translucent, approx. 6-8 minutes. Stir in garlic and continue to cook another 30 seconds, or just until garlic is fragrant. Add tomatoes, parsley, sugar and pepper flakes. Simmer 15-20 minutes; stir in basil, then season sauce to taste with salt and pepper. 
Remove cooked meatballs from any fats that have accumulated in the baking dish and place meatballs into prepared Tomato Basil Sauce; simmer for 15-20 minutes. Serve garnished with Parmesan, if desired.
Want to learn more about beef? Visit these pages:
Looking for tasty beef recipes? Try these!
---