Roast Beef Picnic Pinwheels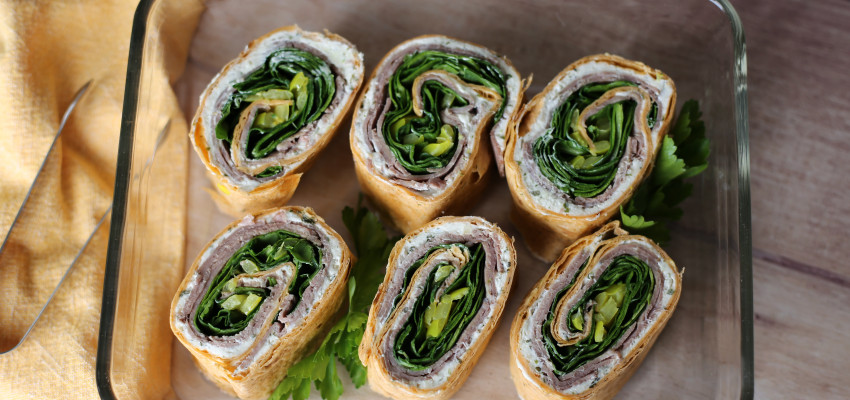 Ingredients
4, 10-inch flour wraps, sun-dried tomato basil flavor (may substitute any flavor of wrap or even plain flour tortillas, as preferred) 
6 oz. Alouette spreadable cheese, Garlic and Herbs flavor 
1 lb. thinly sliced deli roast beef 
2 cups loosely packed fresh spinach leaves 
16 oz. jar sliced banana peppers, well-drained, used to taste, will have some leftover (may use pepperoncini peppers if you prefer something a bit spicier) 
Instructions
Spread the wraps with the spreadable cheese, leaving about a 1-inch border around the edge. Top with roast beef slices, overlapping them as you go. Add fresh spinach leaves, then sprinkle with banana peppers. 
Roll up each wrap, using your fingers to tuck in the ingredients as you go. The wraps are really full so this can be a little challenging, but worth the effort.
Roll each wrap tightly in plastic wrap; chill for three to four hours to let the flavors meld together. 
To serve, unwrap and place each wrap onto a cutting board. Trim the ends from each wrap (these are the "cook's ends" so you get to eat them as you work), then slice each wrap into four fat pinwheels. Place pinwheels in an airtight container and refrigerate until ready to enjoy. 
---