Big Boy Burgers with Crispy French-Fried Onions, Provolone and Barbecue Sauce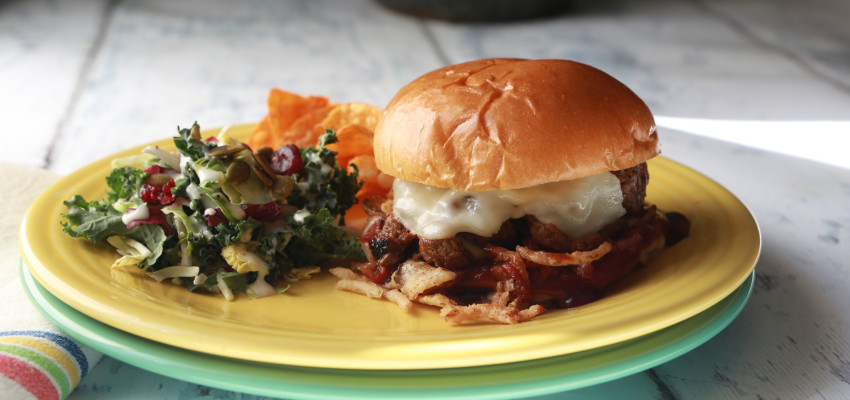 Ingredients
8 slices bacon, chopped
1 lb. ground beef, ideally 85% lean
1/2 cup shredded cheddar cheese
1 Tbs. Worcestershire sauce
1 Tbs. barbecue sauce, plus more for topping
1 tsp. ground black pepper
1 tsp. Sriracha
4 slices provolone
4 brioche buns, toasted
crispy French-fried onions
burger toppings such as tomatoes, sliced red onions, lettuce, etc.
Instructions
Begin the burgers by par-cooking the bacon just until it renders its fat and isn't quite yet crispy, approximately four to five minutes; remove the bacon to a paper towel-lined plate and cool.
In a medium mixing bowl, place the chopped and cooled bacon, ground beef, shredded cheddar, Worcestershire, barbecue sauce, black pepper and Sriracha. Use your hands to gently combine; form four equal-sized patties.
On a preheated oiled grill or grill pan over medium-high heat, cook the prepared burger patties for five to six minutes, then turn burgers and cook for an additional five to six minutes on the second side, or cook to the desired burger doneness. The burgers will likely have a bit of cheese oozing out at this point.
Add a slice of provolone cheese to each cooked burger, letting it melt a bit.
Toast the brioche buns while the burgers are cooking.
To assemble the burgers, drizzle the bottom buns with a healthy dose of barbecue sauce. Add a layer of French-fried onions, then your favorite burger toppings. Top with the grilled cheeseburgers and a second layer of French-fried onions, then add the top buns. Serve at once.
WANT THE KALE SALAD THAT'S ON THE SIDE? GO HERE!
WHILE YOU'RE HERE, CHECK OUT THESE SIMILAR RECIPES AND TIPS:
---