Cast Iron Skillet Rib-Eye Steak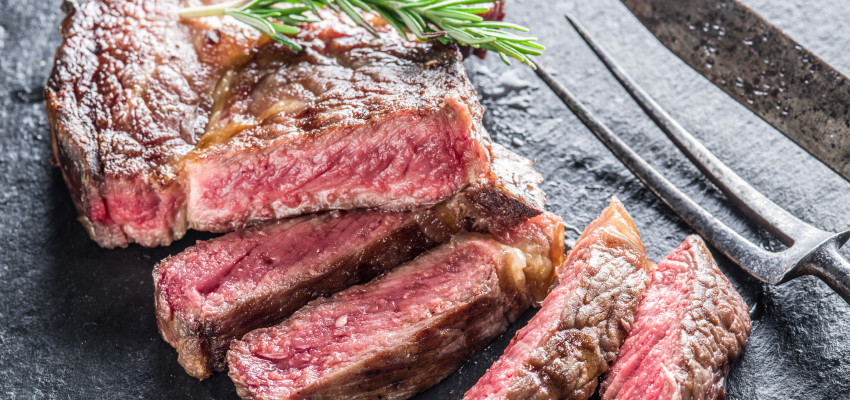 Ingredients
2 rib-eye or strip steaks, about 1" thick  
Kosher salt and black pepper, to taste  
1 Tbs. unsalted butter + 1 Tbs. olive oil  
2 large sprigs rosemary or thyme 
Instructions
Set a cooling rack onto a rimmed baking sheet. Season the steak with 2 tsp. kosher salt; season to taste with freshly ground black pepper. Transfer the seasoned steaks to the rack; refrigerate, uncovered, overnight (eight to 10 hours). Let the steak come to room temperature for one hour before preparing to cook.  
When the steak has had the one hour of beauty rest, pat it dry with paper towels, then season once more with a bit of kosher salt and freshly ground black pepper.  
Heat a 12" cast iron skillet until nicely hot, two to three minutes over medium high heat; add the oil and butter to the skillet. When the oil/butter is hot, add the rosemary sprigs then place the steaks on top. Sear the steak on both sides, approximately two to three minutes on each side, until browned and crusty.  
Turn the heat to medium, continuing to grill the steak, approximately 12 to 15 minutes longer, just until it reaches 125-130 degrees F. at the thickest part, when testing with an instant-read meat thermometer.  
Remove the skillet from the heat, covering loosely with foil, letting the steaks rest for 10 minutes to relax. During this resting period, the steaks will rise to a perfect medium rare internal temperature of 135-140 F. 
Serve at once. 
---