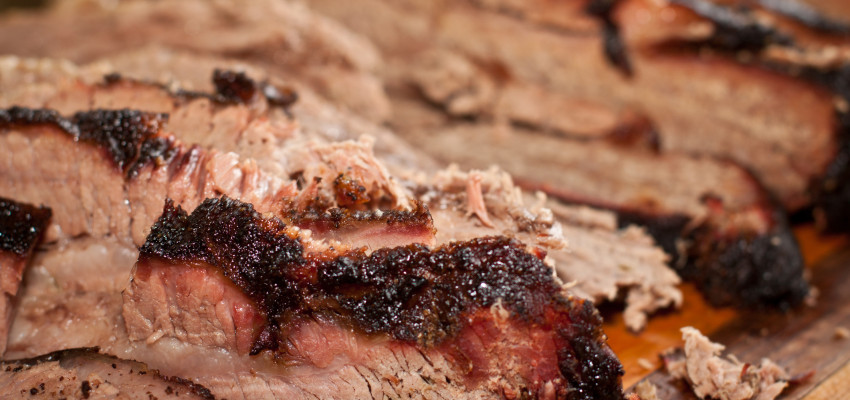 Ingredients
1 beef brisket, 9-10 lbs (cut in half so both halves will fit vertically into 10 qt pressure cooker, side by side)
2 cups beef broth
Marinade
1/2 cup unsalted butter
2 Tbs. olive oil
4-5 cloves garlic, minced
2 cups dark brown sugar
1 cup aged balsamic vinegar
1/2 cup Worcestershire sauce
2 tsp. freshly ground black pepper
1 Tbs. kosher salt
1 tsp. red pepper flakes
Instructions
Marinate
In a saucepan over medium heat, melt butter with oil; add garlic and sauté one minute. Remove pan from heat, add remaining ingredients, whisking until all ingredients are well incorporated; let cool.
When marinade has cooled completely, place into a two gallon zip-lock freezer bag and add brisket halves, then seal bag and let brisket marinate for 24 hours. I place my bag into a large tray in case there's any accidental leaks.
Pressure Cooker
When ready to prepare brisket, place two cups broth into pot of a 10 quart electric pressure cooker, then add trivet. Meanwhile, remove brisket from marinade and place both halves vertically into pressure cooker, letting them lean on each other or the sides of the pressure cooker pot. Reserve marinade in bag to use as a serving sauce later (see directions below).
Lock pressure cooker lid into place and choose high setting for 95 minutes. When timer sounds, use the natural release to remove all pressure from pressure cooker, allowing brisket to rest and relax during this time. **Test brisket halves with a fork to be sure they are fully tender. If you find any resistance when inserting a fork into any part of each brisket, pressure cook again for an additional 20-25 minutes, again with a full natural release.
Remove brisket from pressure cooker to a cutting board. Reserve some of the cooking juices for use later. Trim fat from briskets, then let them cool a bit before placing brisket halves into the fridge to thoroughly chill. Place marinade from marinating bag into a saucepan and bring to a full boil; reduce to a simmer and cook for 3-4 minutes. Let cool, then chill sauce in fridge with brisket.
When brisket is fully chilled, place onto cutting board, making certain to slice ACROSS the brisket grain into serving slices. Brisket can be sliced while warm,  but is much easier to slice once chilled.
Place brisket slices into a large serving dish, layering one slice upon the next, then add reserved cooking juices (or add some warm broth) and reheat brisket in a 325 degree F. oven, covered, for 20-25 minutes or until hot throughout. Serve sliced brisket drizzled with warmed sauce.
**If cooking a smaller brisket, say a brisket flat that weights 4-5 lbs., cook in pressure cooker on high setting for 60 minutes with a full natural release to let brisket relax. Brisket must be very fork tender when tested. If it's not, return to pressure cooker under high pressure for an additional 10 minutes, again followed by a natural release.
To Cook Brisket in the Oven
Place large marinated brisket into a large roasting pan, fat side up. Cover roaster and bake in a preheated 250 degree F oven for 8-10 hours, depending on size of brisket. Brisket should be very fork-tender when a fork is inserted as a test. If there is ANY resistance when testing with a fork, continue to bake in the oven until very fork-tender. To slice and finish with sauce, follow directions above.
---