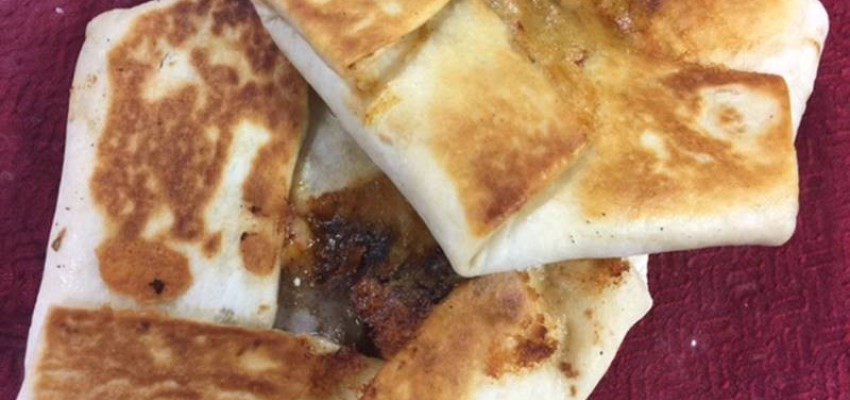 Ingredients
3 garlic cloves, smashed to a paste
1 tsp chili powder
1 tsp cumin
1/2 tsp. smoked paprika 
1/4 tsp. oregano flakes
1/8 tsp. red pepper flakes 
¼ cup unsalted butter, softened 
1 lb. beef sirloin or flatiron 
kosher salt and freshly ground black pepper, to taste 
10" flour Tortillas
Sour cream
chopped green chiles
Tostada shells
2 cups shredded cheddar cheese (I love Alma Creamery sharp cheddar by the block, shredded fresh, as needed) 
 Red enchilada sauce 
Garnishments: Sour cream, cheese, green chilies, salsa, chopped fresh cilantro
Instructions
In a small bowl, combine garlic and spices with butter to form a paste; reserve.
Season beef with salt and pepper. Meanwhile, place a grill pan over medium high heat. When grill pan is nicely hot, add seasoned beef to pan and cook for 3-4 minutes. Turn beef over and smear with prepared garlic mixture, continuing to cook to desired doneness. (We like medium rare, 145 degrees F internal temperature.) Remove beef from grill pan, then cover and let rest for a few minutes, Thinly slice beef on the bias, across the grain into thin strips; reserve and keep warm.
To assemble packets, place a flour tortilla onto a clean work surface; spread with sour cream, then sprinkle with green chilies and top with a tostada shell. Place a few steak strips across tostada shell, add a drizzle of enchilada sauce and then a generous sprinkle of cheese. Bring sides of tortilla to the middle, folding tortilla over ingredients to form a hexagon shape. Repeat with remaining ingredients to make more packets.
Heat a large cast iron skillet over medium heat; add a bit of melted butter to skillet, then place packet seam-side down into skillet. When golden brown on the first side, turn packet to cook on the other side until golden brown and cheese inside is melted. Repeat with remaining quesadilla packets. Serve garnished with more sour cream, green chilies, cheese, salsa, and cilantro, as desired.
You might also enjoy
---