Pressure Cooker Shredded Beef Shawarmas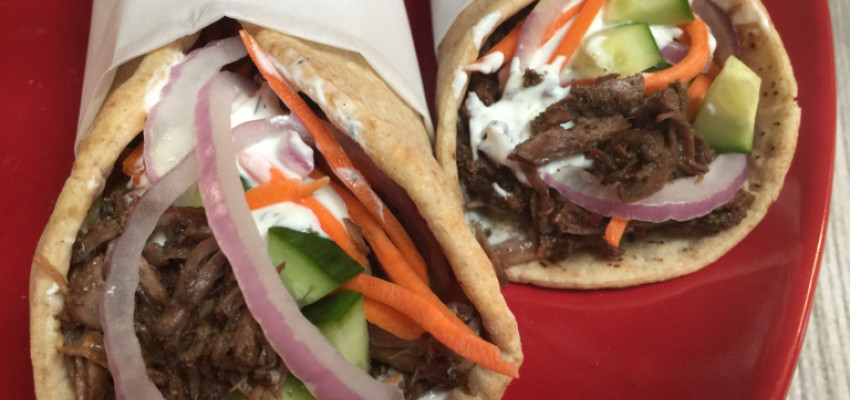 Ingredients
3 lb. chuck roast, trimmed if needed, cut into 3" chunks 
2 cups buttermilk 
6 Tbs. shawarma seasoning,  divided use  
Oil, for searing beef
1 cup beef broth
1/4 cup red wine vinegar 
Sliced red onion, for garnish 
Halved grape tomatoes, for garnish 
Shredded carrots, for garnish 
Pita bread, warmed 
Instructions
Combine buttermilk with 2 Tbs. shawarma spice blend; pour over beef and let marinate for 12 hours. 
When ready to prepare meat for shawarmas, remove meat from marinade and throw away remaining marinade. Pat meat dry with paper towels, then dredge beef on all sides in remaining 4 Tbs. of spice blend. 
Preheat a bit of oil in electric pressure cooker pot set on sauté setting; when oil is hot, add seasoned chunks of beef and brown off on all sides, working in batches so you don't over crowd the pot. 
Remove any remaining oil in pressure cooker pot, then deglaze the pot with beef broth; add vinegar, stirring to combine. Return browned beef to pressure cooker pot and lock lid into place. Choose high setting for 40 minutes; when timer sounds, use a natural pressure release allowing all pressure to slowly and naturally remove itself from the pressure cooker . 
Remove lid and use a slotted spoon to remove beef to a platter; use two forks to gently shred beef apart. Fill warm pitas with beef mixture, top with garlic sauce and veggies.
For added flavor, crisp up the shredded beef in a lightly oiled cast iron skillet over medium high heat; add a bit of the pan juices as desired. 
---