Grilled Sirloin Salad with Roasted Butternut Squash, Baby Spinach and Walnuts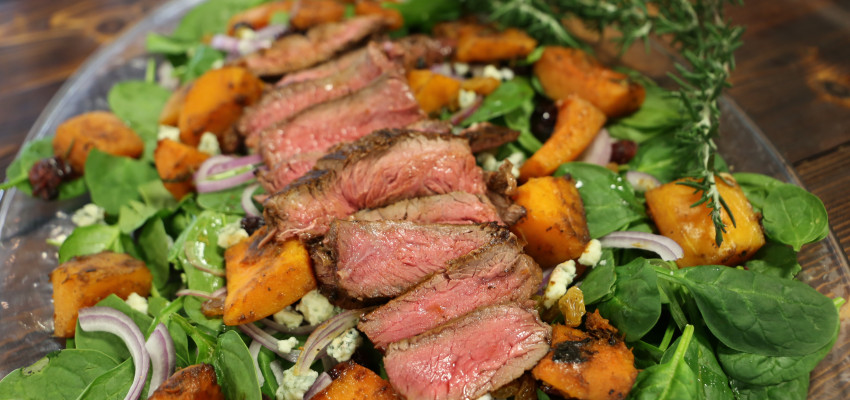 Ingredients
1 medium butternut squash, peeled, seeds removed, cut in 1-1/2" chunks 
Olive oil, for drizzling over the squash when oven roasting 
kosher salt and freshly ground black pepper, to taste 
8 oz. sirloin steak, grilled to desired doneness (preferably medium rare, 140-145 degrees F. at the center), sliced thinly across the grain 
3-4 cups baby spinach (or substitute baby kale) 
2 Tbs. dried cranberries
2 Tbs. golden raisins 
1/3 cup toasted chopped walnuts
1 small red onion, thinly sliced into slivers 
1/4 cup bleu cheese crumbles
Dressing 
3 tablespoons olive oil
1 tablespoon white wine vinegar
1 teaspoon minced fresh rosemary (or 1/2 tsp. dried rosemary)
Instructions
Preheat the oven to 425 F. 
Place the butternut squash chunks onto a lightly greased rimmed baking sheet; drizzle with a bit of olive oil, tossing the squash to coat, using two spatulas or large spoons. Season the squash to taste with salt and pepper. 
Roast the squash for 20-25 minutes or until it is is fork-tender and caramelized; gently toss the squash 1-2 times throughout the cooking process so it roasts evenly. 
To prepare the dressing, place the olive oil, vinegar, and rosemary into a dressing cruet (or mason jar), giving the ingredients a good shake to combine well. 
Arrange the spinach on a platter; top with the roasted butternut squash, cranberries, golden raisins and slices of steak; sprinkle with walnuts and red onion slivers. Drizzle the prepared dressing over all, then top with the bleu cheese crumbles. Serve at once. 
---