Smoked Tri-Tip Beef Roast with Chimichurri Sauce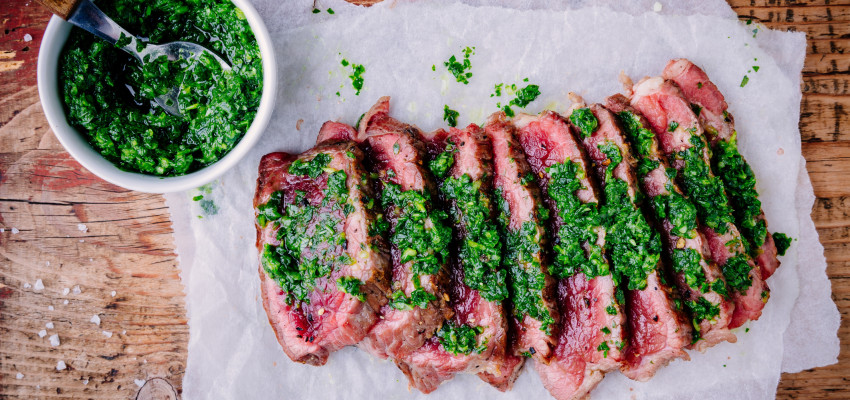 Ingredients
1 Tri-Tip Beef Roast, around 2 lbs, give or take
1-2 Tbs. olive oil
2 Tbs. salt and fresh ground pepper (equal parts, mixed together)
Chimichurri sauce
1/2 cup fresh Italian parsley
1/4 cup fresh cilantro 
1/2 - 1 tsp. red pepper flakes
2 cloves garlic, minced 
1/4 cup extra virgin olive oil
1 Tbs. balsamic vinegar
1/2 tsp. kosher salt
1/2 tsp. ground black pepper
Instructions
Preheat smoker to 225 degrees.
Cover the tri-tip in olive oil and sprinkle liberally with salt and pepper. I mean it when I say "liberally." Don't be afraid to get a nice crust on there.
Place the seasoned  tri-tip roast on the smoker, unwrapped, for 60-90 minutes, cooking only until the internal temperature reaches 127 - 130 degrees F for medium rare. 
Remove tri-tip and wrap tightly in foil; place into a cooler (without ice) to keep warm for 30-60 minutes. This will continue the cooking process to raise the internal temperature of the meat another 5 degrees, plus this rest will also allow your tri-tip to become extremely tender as the juices slowly redistribute into the meat.
Meanwhile make your chimichurri sauce by placing parsley, cilantro, red pepper flakes, and garlic into bowl of a food processor; pulse to combine, then as food processor is running, add olive oil and vinegar, processing until smooth. Adjust salt and pepper to taste. 
To slice tri-tip, place onto a large cutting board and carefully unwrap. Cut beef across the grain into 3/4" slices. 
Serve drizzled with chimichurri sauce, along with your favorite side dishes. 
---