Philly Cheese Steak Bread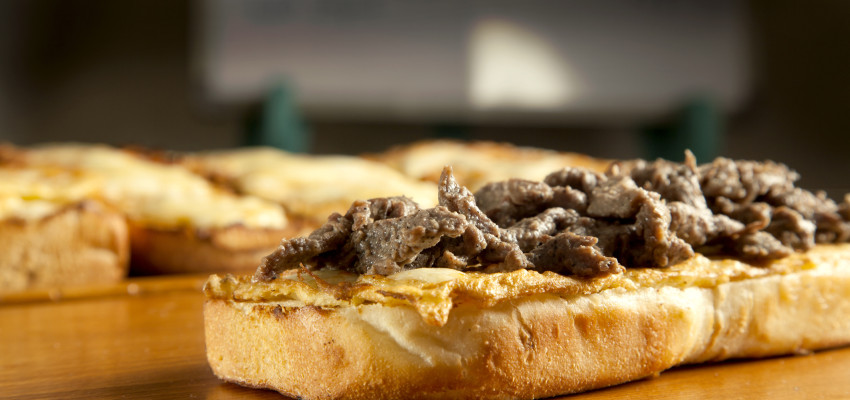 Ingredients
1 ribeye steak, 8-10 oz. 
Kosher salt and pepper, to taste
1 Tbs. vegetable  oil
1 Tbs. + 1 tsp. Worcestershire sauce, divided use
2 Tbs. unsalted butter
1 green bell pepper, seeds and membranes removed, sliced
1 yellow onion, sliced
4 oz. button mushrooms, sliced
1 loaf French or Italian bread, sliced in half lengthwise, brushed with oil and toasted 
1/3 cup mayonnaise 
8 oz. Provolone cheese slices
Instructions
Remove steak from fridge 20 minutes before you are ready to cook it; lightly season with salt and pepper on each side and let rest. Slice steak into thin slices. 
Preheat oven to 400 degrees F. Heat oil over medium high heat in a large cast iron skillet.
Add the seasoned steak slices to the skillet and cook for two minutes; flip steak strips and cook one additional minute. Stir in 1 Tbs. Worcestershire sauce, then remove steak from skillet and reserve.
Add butter, bell peppers, onions, and mushrooms to pan drippings in the skillet; season lightly with salt and pepper to taste, cooking vegetables for 1-2 minutes, stirring occasionally.
In a small bowl, combine mayonnaise with 1 tsp. Worcestershire sauce; spread mayo mixture over both halves of the bread. 
Layer bread with cheese slices over mayo, then top with steak, vegetables and remaining cheese. 
Bake, uncovered, on the center rack of the oven 10-15 minutes or until cheese is melted, golden brown and a bit bubbly. 
Slice bread  into wide slices and serve at once. 
---