Orzo Pasta Salad with Grilled Flat Irons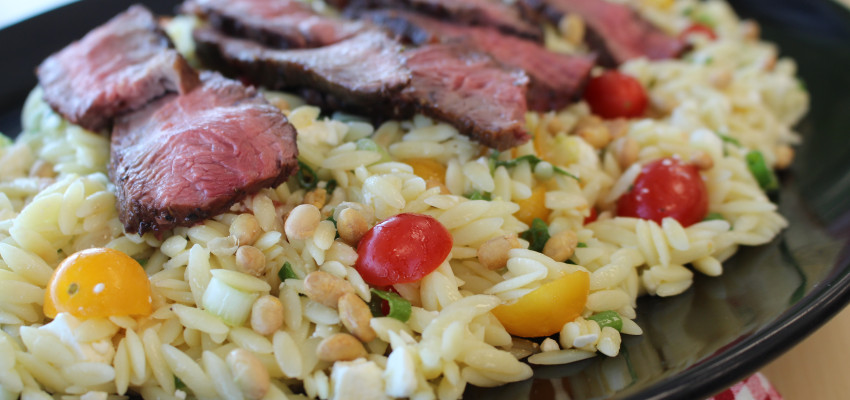 Ingredients
1 ½ - 2 lbs. beef flatiron steak, grilled to desired doneness, cut into strips, across the grain
1/2 cup red wine vinegar
Juice and zest of 1 lemon
1 Tbsp. honey
1 tsp. chicken base paste
3/4 cup extra virgin olive oil
1 lb. orzo pasta
2 cups red or yellow teardrop or grape tomatoes, halved
8 oz. feta crumbles (use 1 package plain feta and 1 package sun-dried tomato feta, if desired)
1/2 cup minced fresh basil (if basil not available, substitute approx. 1Tbsp. fresh thyme leaves, or if using dried basil, ½ tsp.)
1 cup sliced scallions
1/2 cup soy nuts
Instructions
Cook orzo according to package directions, substituting broth for water. While orzo is cooking, prepare dressing in a small bowl by combining vinegar, lemon juice, honey and chicken base paste; whisk in olive oil.
When orzo is cooked, drain completely, then place into a large serving bowl; toss with tomatoes, feta, basil (or thyme) and scallions. Add all but 1/3 cup of dressing and toss to coat. Stir in soy nuts and serve at once. Keep remainder of dressing on hand for serving salad at a later time. This salad is best served at room temperature.
Want to learn more about beef? Visit these pages:
Looking for tasty beef recipes? Try these!
---