Open-Face Italian Beef Sandwiches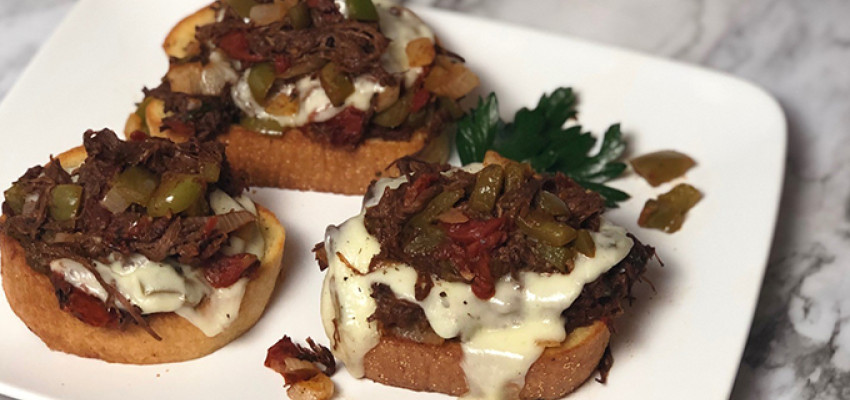 Ingredients
1 lb. lean ground beef
1 green bell pepper, seeds and membranes removed, diced 
1 small yellow onion, diced 
3-4 garlic cloves, crushed (may substitute 1 tsp. granulated garlic, if preferred)
1/2 cup dry red wine*
14 oz. can diced tomatoes, undrained
1/4 cup tomato paste
kosher salt and black pepper, to taste 
1 pkg. frozen garlic Texas toast, 8 count 
8 slices mozzarella cheese
* If you prefer to make this recipe without the wine included as an ingredient, you may substitute beef broth.
Instructions
Preheat the oven to 400 degrees F. 
In a large skillet over medium heat, cook the ground beef with the green pepper, onion and garlic until the meat is no longer pink, eight to 10 minutes, crumbling the meat as it cooks; drain all fats. 
Stir in the red wine, bringing the meat mixture to a high simmer over medium high heat; cook until the wine is reduced by half, two to three minutes. Stir in the tomatoes and tomato paste, returning the mixture to a high simmer once more. Reduce heat and simmer, uncovered, until the meat mixture is nicely thickened, stirring occasionally.
Meanwhile, place the Texas toast slices onto a foil-lined baking sheet; bake until lightly golden brown, eight to 10 minutes.
To serve, spoon the prepared warm beef mixture onto the toast, then top with a slice of cheese. Bake two to three minutes longer or until the cheese is nicely melted. Serve at once. 
These sandwiches are also delicious using leftover cooked shredded beef (such as a cooked and shredded chuck roast or arm roast) in place of the ground beef. 
---