Electric Pressure Cooker Philly Cheese Steak Sliders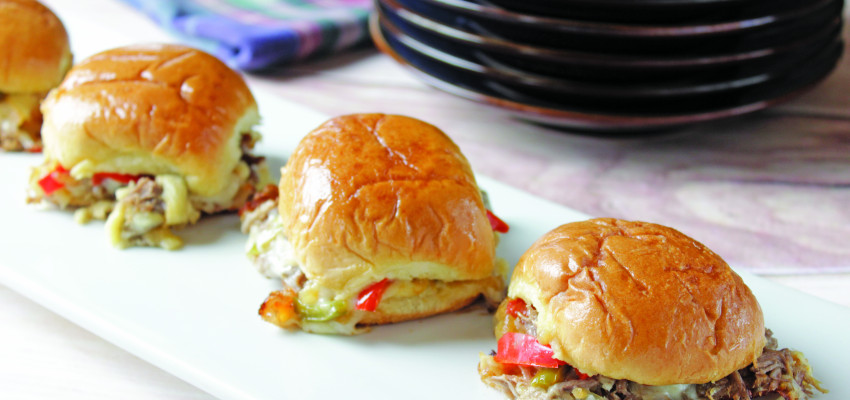 Ingredients
1-1 1/2 lbs. warm cooked and shredded roast beef, as desired
3 Tbs. butter, melted
3 Tbs. mayonnaise
12 slider buns
1 green bell pepper, cored, thinly sliced
1 red bell pepper, cored, thinly sliced
1 onion, thinly sliced
Olive oil
Salt and pepper, to taste
6 slices provolone cheese
Instructions
Prepare the roast beef in your pressure cooker.
Preheat the oven to 350 F.
In a small bowl, combine the butter and mayonnaise until smooth.
Separate the tops and bottoms of the slider buns, spreading the bottoms with the prepared mayonnaise mixture. Place the bottoms into a greased 9 x 13 baking dish.
Meanwhile, in a skillet over medium high heat, sauté the peppers and onions in olive oil until they are tender, adding salt and pepper to taste.
Spread the warm roast beef over the buttered slider buns in the baking dish, then top the beef with the sautéed onions and peppers. Lay the provolone cheese slices over the peppers and onions, then add the tops of the slider buns. Brush the tops of the buns with melted butter.
Cover the baking dish with foil. Bake for 10 minutes, then uncover the sliders and bake for an additional 10 minutes, or until the cheese is nicely melted and the sliders are hot throughout. Cut between each slider and serve.
---