Ranch-Style Fried Egg Burgers with Chipotle Mayo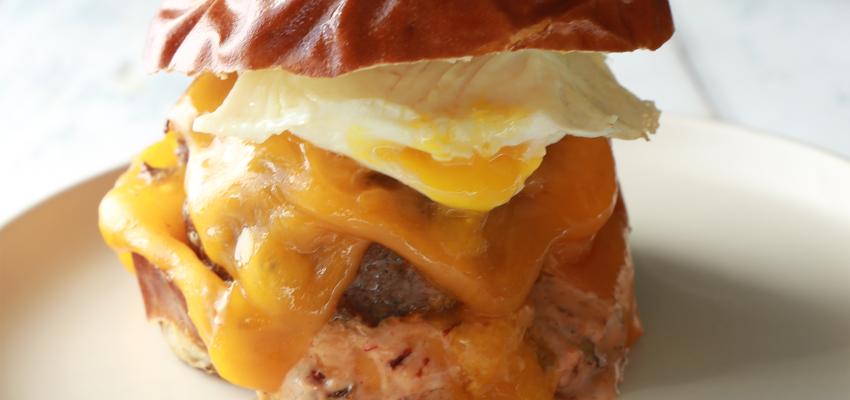 Ingredients
1 lb. ground beef, ideally 85% lean
2 tsp. Worcestershire sauce
1 tsp. of your favorite steak seasoning blend
1 tsp. salt
1 tsp. pepper
4 slices cheddar cheese
4 whole pretzel buns, toasted
4 eggs
4 slices center-cut bacon, cooked until crispy, drained and kept warm, optional
burger toppings such as tomatoes, lettuce, sliced red onions, etc.
CHIPOTLE MAYO
1/3 cup mayonnaise
2 Tbs. sour cream
2 Tbs. prepared ranch dressing
1/2 - 1 tsp. minced chipotles
Instructions
Make the Chipotle Mayo by combining all four ingredients in a small bowl until smooth.
In a medium mixing bowl, combine the ground beef with the Worcestershire sauce and steak seasoning blend, taking care not to over mix.
Form the mixture into four equal-sized patties; season the patties well with kosher salt and freshly ground pepper.
On a preheated oiled grill or grill pan over medium-high heat, cook the prepared patties for five to six minutes, then turn burgers and cook for an additional five to six minutes on the second side, or cook to the desired burger doneness.
Add a slice of cheddar cheese to each cooked burger, letting it melt a bit.
Toast the pretzel buns while the burgers are cooking. Toward the end of the cooking time for the burgers, fry four eggs to the preferred doneness.
To assemble the burgers, slather the buns with Chipotle Mayo, then add the cheeseburgers along with the remaining desired burger toppings (including cooked bacon, if using). Top with the fried eggs and the top buns. Serve at once.
YOU MAY ALSO LOVE THESE RECIPES AND TIPS:
---