Beefy Quinoa-Stuffed Bell Peppers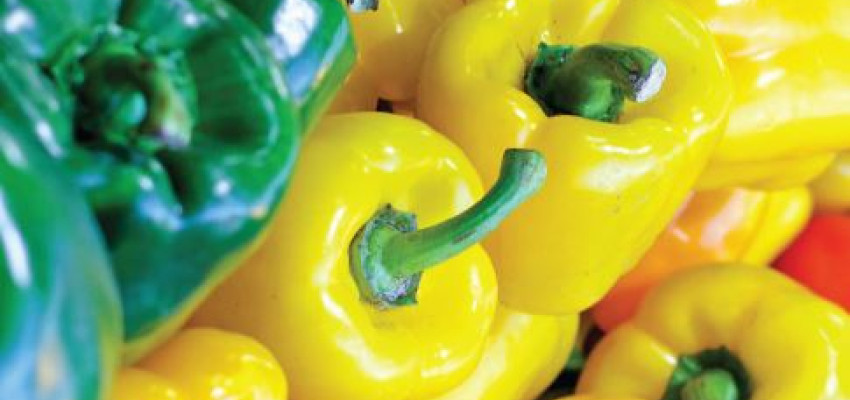 Ingredients
6 sweet red bell peppers, cut in half lengthwise, membranes and seeds removed, cooked in boiling water for 5 minutes, drained
1 lb. lean ground beef
1/2 medium yellow onion, diced
2 cloves garlic, minced
2 cups diced tomatoes
1 Tbsp. Worcestershire sauce
1 Tbsp. fresh oregano leaves, chopped, or ½tsp. dried basil leaves
1 Tbsp. fresh basil leaves, chopped, or ½tsp. dried oregano leaves
1 cup cooked quinoa
14 oz. can tomato sauce
1/2-1 cup shredded sharp cheddar cheese
Instructions
Preheat oven to 350° F.
In a large skillet over medium heat, sauté onions until softened.
Add garlic and ground beef; cook until beef is a safe internal temperature of 160° F, juices run clear, and all pink is gone.
Add tomatoes, Worcestershire sauce, spices and quinoa; combine well and cook until hot throughout. Place cooked and drained bell pepper halves onto a greased baking sheet or into a large greased baking dish. Divide beef mixture evenly between bell pepper halves; top each with approx. 2 Tbsp. tomato sauce, then sprinkle each one with cheese.
Bake, covered, for 25-30 minutes, or until hot throughout, removing cover for last 10 minutes of baking time. Cheese should be hot and bubbly on top.
Provided in partnership with From the Land of Kansas.
---