St. Patty's Reuben Egg Rolls with Dipping Sauce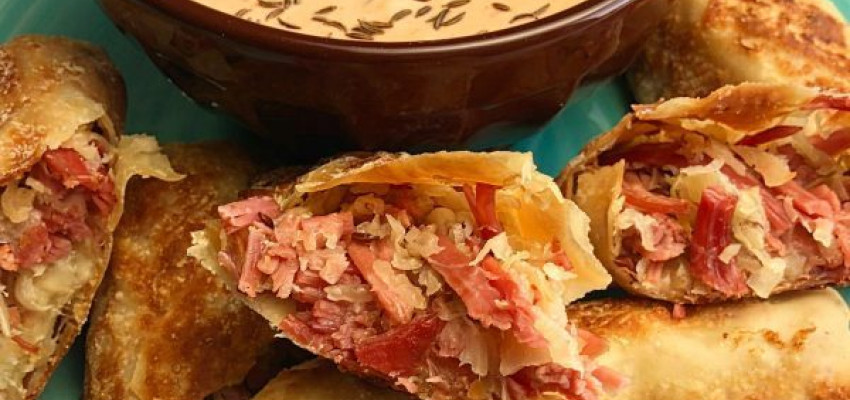 Ingredients
Egg Rolls
18-20 egg roll wrappers
1 ½ - 2 lbs. cooked corned beef, shredded and chopped
14.5 oz. can sauerkraut, rinsed and drained well
1 Tbs. sugar
1 tsp. caraway seed
½ tsp. red pepper flakes
2 cups shredded Swiss cheese
canola or vegetable oil for frying, or non-stick spray for baking
Dipping Sauce
1/2 cup Hellman's mayonnaise
1/2 cup plain Greek yogurt
2-3 tsp. prepared horseradish, or to taste
1/2 tsp. granulated onion
3-4 Tbs. chili sauce
1-2 tsp. spicy brown mustard
Instructions
Egg Rolls
Place sauerkraut in a small saucepan with sugar, caraway seed, and red pepper flakes, cooking until all moisture is removed from sauerkraut; reserve and let cool.
In a mixing bowl, combine corned beef with cooled sauerkraut and cheese.  Set up a work station with the bowl of corned beef/sauerkraut mixture, egg roll wrappers, a small bowl of water, and a baking sheet or platter.
Place a single egg roll wrapper onto your work surface (one point toward you) and moisten the edges with a bit of water. Place approx. 4 Tbs. (1/4 cup) of prepared filling onto the center of the egg roll wrapper, using your fingers to slightly compact the filling together.
Lift a corner of the egg roll wrapper and fold it up over the filling, then fold in each of the two points on either side of the filling towards the center over the filling. Roll the egg roll away from you towards the final point, until the egg roll is a tightly wrapped package.
Press the final edge tightly to ensure the filling stays inside, then place onto the platter while you make the remainder of the egg rolls.
To Bake:  Preheat the oven to 375 degrees F. Place the prepared egg rolls onto a greased baking sheet, at least 1-2 inches apart, then spray the egg rolls well with nonstick spray.  Bake, uncovered, on the center rack of oven for approx. 15-20 minutes, or until the egg rolls are golden brown, crispy, and hot throughout.
To Fry:  In a large skillet over medium high heat, add a bit of vegetable oil. When the oil is hot, add the prepared egg rolls, a few at a time, frying for 3-4 minutes per side, or until golden brown, crispy,  and hot throughout.
Dipping Sauce
Combine all ingredients for the sauce in a small bowl and whisk together until smooth; refrigerate until ready to use. 
Nutrition
Calories: 651kcal | Carbohydrates: 27g | Protein: 42g | Fat: 41g | Saturated Fat: 15g | Cholesterol: 137mg | Sodium: 2845mg | Potassium: 774mg | Fiber: 3g | Sugar: 5g | Vitamin A: 414IU | Vitamin C: 74mg | Calcium: 280mg | Iron: 5mg
---