Beefy Brie Burgers with Caramelized Onions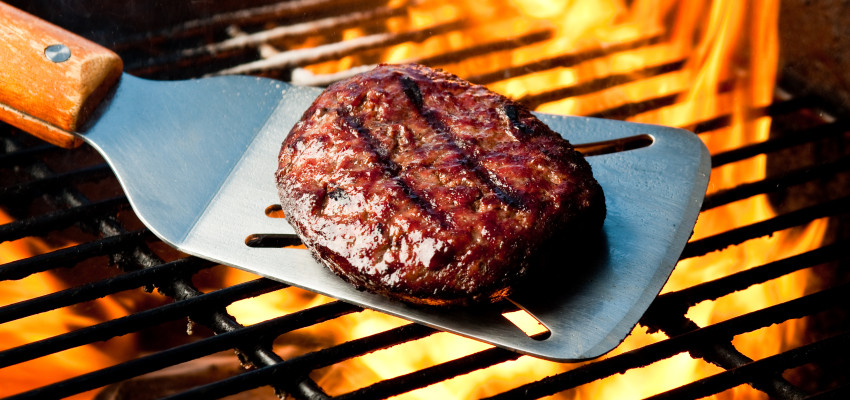 Ingredients
Caramelized Onions
2 yellow or Vidalia onion, thinly sliced
2 Tbs. extra virgin olive oil
1 Tbs. balsamic vinegar
1 Tbs. granulated sugar
Burgers
1 ½ lbs. ground chuck
3 Tbs. fine dry bread crumbs
3 Tbs. strong beef broth
1 tsp. kosher salt
½ tsp. freshly ground black pepper
2 oz. brie cheese
4 hamburger buns
1/3 cup zesty brown mustard
2 cups baby argula
Instructions
In a large saute pan over medium heat, combine onions with extra virgin olive oil, vinegar and sugar; cover pan and cook slowly until onions are softened and golden brown, approximately 20 minutes. Set aside and keep warm.
Meanwhile, preheat the grill for direct cooking over high heat. In a large mixing bowl, gently combine ground chuck with bread crumbs, broth, salt and pepper; shape into four patties of equal size and thickness, making a hole in the center of each patty for the cheese. Trim the rind from the brie cheese and cut into four portions. Nestle each piece of brie into the hole made in each burger, sealing each burger tightly around the brie. 
Brush grill clean with wire brush, then oil the grates. Grill patties over direct high heat, lid closed for eight to 10 minutes for medium doneness. Flip burgers when they easily release from the grates without sticking. Toast buns during last few minutes of cooking time. Assemble warm burgers with caramelized onions, mustard and arugula piled high. Serve at once.
---