Fool-Proof, No-Peek Prime Rib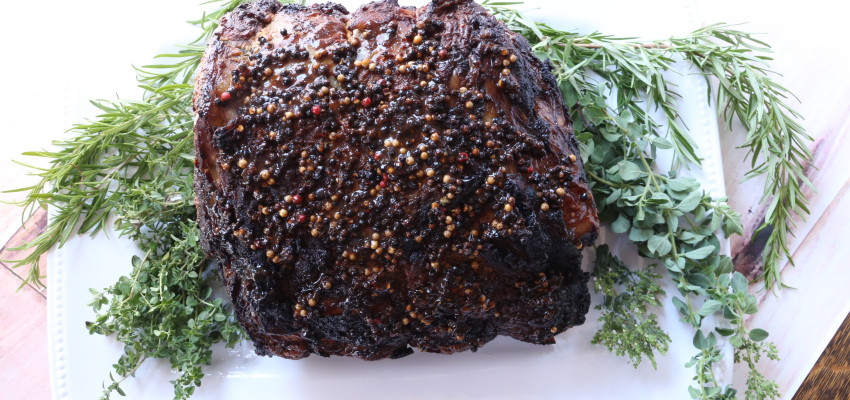 Ingredients
1 prime rib roast, three to four ribs in size or fewer (approximately 8-10 lbs.), bones removed and tied to the roast with string.
2-3 Tbs. spicy brown mustard
1 Tbs. each seasoned salt, granulated onion and granulated garlic
peppercorns
1 batch Creamy Horseradish Sauce (recipe below)
1 batch Au Jus (recipe below)
Instructions
Remove the roast from the refrigerator and unwrap it three to four hours before you will put it in the oven.
Combine the seasoned salt, garlic, onion, peppercorns and mustard in a small bowl.
Place the prime rib roast onto a clean work surface, then use your fingers to rub the mustard mixture all over it.
Place the prepared roast, fat-side up, onto the rack of a roasting pan. If you don't have a rack, line up celery ribs and carrots.
Meanwhile, preheat your oven to 500 F, moving the oven racks to their lowest setting.
Place the prepared roast in the oven, uncovered, and cook for five to seven minutes per pound. If you have a smaller roast, say a two-rib roast weighing closer to 5-6 pounds, opt for closer to five minutes per pound since it is smaller overall. Keep in mind you can always give your roast more time in the oven if it's a bit undercooked.
When the oven timer sounds, immediately shut off the oven, but DO NOT open the door. Let the roast rest in the oven for two hours, making sure the oven door remains closed for that entire time.
After two hours, open the oven door and immediately use an instant-read meat thermometer to check the internal temperature of the thickest part of the roast. For perfect medium-rare prime rib, opt for 130-135 F.
If the thermometer reads cooler than 130-135 F, preheat your oven to 375 F and return the roast to the oven once more, cooking it, uncovered, until it reaches the internal temperature of 130-135 F that is desired.
When ready, place the prime rib onto a large cutting board with a channel, cutting the strings that hold the ribs to the roast.
Slice the roast into thick, juicy slabs. Place a bit of au jus onto each serving plate, top with a slice of prime rib, then add a dollop of horseradish sauce on the side.
Serve at once with your favorite side dishes.
---