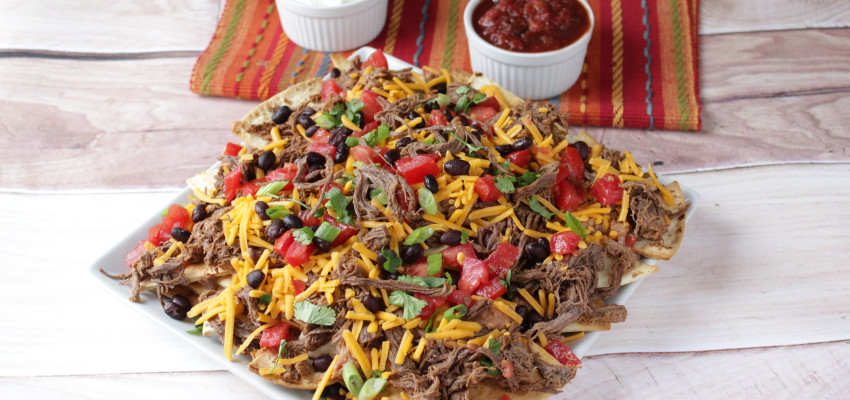 Ingredients
1 - 1.5 lbs. cooked and shredded roast beef, warm
12 - 8-inch flour tortillas, cut each one into 6 wedges 
Non-stick baking spray 
1 can, 16 oz. can refried beans 
1 1/2 cups shredded cheese, divided use 
15 oz. can black beans, drained and rinsed (you will have some leftover) 
Chopped tomatoes, to taste
Chopped cilantro, to taste 
Chopped scallions, to taste 
Toppings for serving - sour cream, guacamole, salsa, sliced black olives, as desired 
Instructions
Prepare the roast beef with your Instant Pot.
Preheat the oven to 400 F. 
Place the tortilla triangles in a single layer over a large baking sheet; spray both sides of the triangles with a generous coating of non-stick spray.
Bake the tortilla triangles, uncovered, on the center rack of the oven for eight to 10 minutes; turn the triangles over and bake an additional two to three minutes or until golden brown and crispy. Remove the triangles to a cooling rack and repeat the process with any remaining tortilla triangles.
Lower the oven to 350 F. Place the baked tortilla triangles onto a rimmed baking sheet. Top with the warm shredded roast beef, refried beans, cheese, black beans, tomatoes, cilantro and scallions, as desired. Place the nachos into the oven, baking them, uncovered, on the center rack for 10-15 minutes or until hot throughout. 
Serve with your favorite toppings. 
---