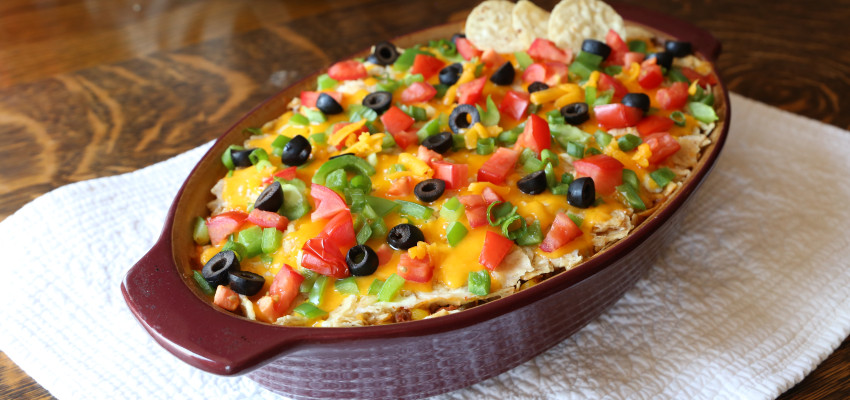 Ingredients
1 lb. ground beef
2 cups frozen corn, thawed
2 cups chunky mild salsa
2 oz. sliced black olives, drained, divided use
1 ½ cups cottage cheese
1 ½ cups sour cream
5 cups whole tortilla chips
2 cups shredded sharp cheddar cheese, divided use
1 green bell pepper,
seeds and membranes removed, diced
1 tomato, seeded and diced
1-2 scallions, green parts only, chopped
Tortilla chips for garnish, as desired
Instructions
Preheat oven to 350 degrees F.
In a large skillet over medium-high heat, cook ground beef until nicely browned and no pink remains; drain well.
Stir in corn, salsa and all but 1-2 tablespoons of the black olives; bring beef mixture to a simmer and cook 1-2 minutes longer or until hot throughout. Remove skillet from heat and set aside.
In a mixing bowl, combine cottage cheese with sour cream.
Place tortilla chips in a gallon bag and gently crush them using your hands.
In a 2-quart greased baking dish, place half of the crushed chips, then top with a layer each of half of the prepared meat mixture, ¾ cup cheddar cheese and half of the prepared cottage cheese/sour cream mixture. Repeat the layers, ending with the cottage cheese/sour cream mixture.
Cover with foil and bake on center rack for 35 to 40 minutes. Remove foil; top with remaining cheddar cheese, tomatoes, black olives, scallions and bell pepper.
Return uncovered casserole to the oven for five minutes or until cheese is melted and bubbly. Remove casserole from oven and allow to rest for 10 minutes before slicing.
You may also like...
---