Air Fryer Marinated Steak Bites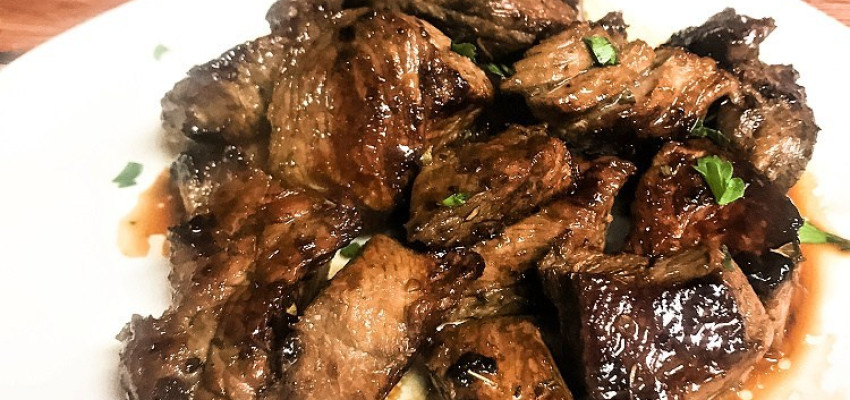 Ingredients
Sirloin steak
Soy sauce
Olive oil
Worcestershire sauce
Seasonings – granulated garlic (or garlic powder), Italian seasoning, dried parsley
Instructions
Place all the marinade ingredients into a gallon bag; add the cubes of steak, pressing out the air and sealing the bag.
Massage the marinade to combine all the ingredients, moving the steak around in the marinade as you go. Place the bag of meat and marinade into a bowl and place it into the fridge to marinate for at least 30 minutes but preferably overnight.
Remove the steak bites from the marinade, spreading them out over the air fryer rack so that they aren't touching each other; you may need to cook in batches, depending on how big your air fryer and the rack is.
Air fry the steak at 350 degrees F. for 2-3 minutes per side, depending on how you prefer your steak to be cooked. (We do about 2 minutes per side since we prefer medium-rare steak.)
Serve at once!
Recipe Tips
Be sure to place the bag of marinade and steak into a bowl before placing it into the fridge. If there are any leaks, they are contained in the bowl instead of all over your fridge.
Place the bowl containing the bag of marinade and steak onto the lowest rack of the fridge. This way there's no cross-contamination of bacteria from raw food (steak and juices) to other foods in the fridge.
When cooking the steak bites, leave space around each piece of steak so the heat from the air fryer can really circulate and give it good browning all the way around.
Crowding the meat together doesn't allow the heat to circulate properly, causing the meat to steam instead of air fry. Steaming meat never allows for good caramelization and the meat turns gray in color. It's still absolutely edible, just not as appetizing to look at.
---