Roast Beef Wellington Packets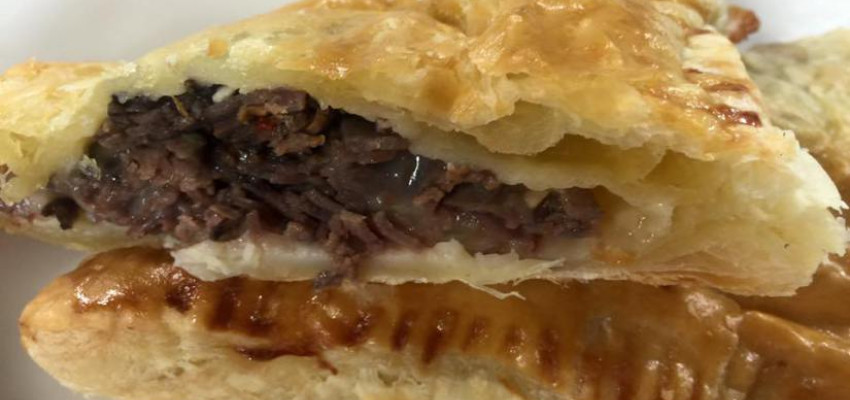 Ingredients
8 oz. sliced mushrooms
1-2 Tbs. unsalted butter
2-3 cloves garlic, minced
1 lb. deli roast beef, thinly sliced, chopped
8 oz. Swiss cheese, shredded
1 lb. box Pepperidge Farms frozen puff pastry sheets, thawed
1 egg beaten with 1 Tbs. water to create egg wash
Horseradish Sauce
3/4 cup sour cream
3 Tbs. mayonnaise
1-2 tsp. freshly grated horseradish
dash of Worcestershire sauce
Combine all ingredients in a small bowl and chill until ready to serve.
Instructions
In a large saute pan or skillet over medium high heat, melt butter.  When butter is sizzling a bit, add mushrooms and garlic and cook for 2-3 minutes or until mushrooms are softened slightly and garlic is fragrant; remove from heat and let cool slightly.  Meanwhile, in a large mixing bowl, gently toss roast beef and cheese together, then add the mushrooms and garlic mixture.
Unwrap the puff pastry and lay one sheet out onto a greased sheet of parchment paper.  Using a rolling pin, roll out puff pastry to about 12 x 18 in size, then cut in half diagonally to create two triangles.
Place one quarter of the prepared filling onto one side of the puff pastry triangle, leaving about 1/2″ of space around the outer edge of the triangle; fold dough over filling.  Using a fork, press edges of dough together to seal tightly; brush pastry with egg wash.   Repeat with remaining dough and filling.
Bake packets, uncovered, in preheated 375 degree oven for 20-25 minutes, or until nicely golden brown and puffed.
Serve warm, topped with horseradish sauce.
---