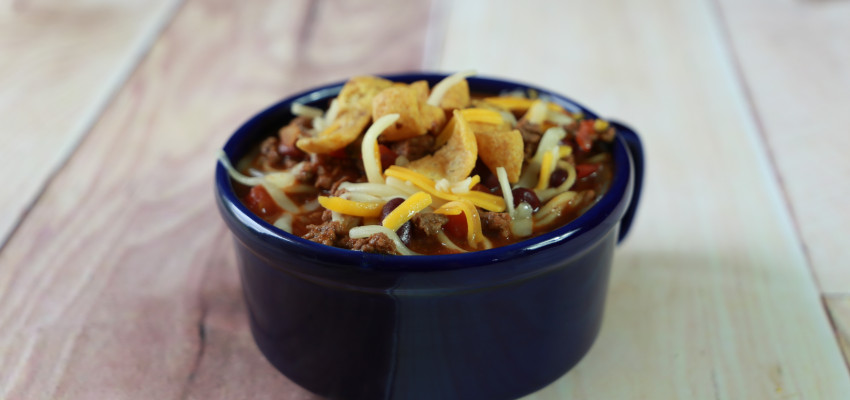 Ingredients
2 lbs. lean ground beef
1-2 Tbs. chili powder
2 Tbs. dehydrated onions
1-2 tsp. minced chipotles in adobo
1 can petite diced tomatoes, with juice
1 can diced tomatoes and green chilies, with juice
8 oz. can tomato sauce
1 can kidney beans, drained and rinsed
1 can chili beans, drained and rinsed
3 cups beef broth
3 oz. angel hair or spaghetti pasta, broken into thirds
TOPPINGS,  AS DESIRED
Shredded cheddar or Monterey Jack cheese (or your favorite shredded cheese)
Corn chips, such as Fritos
Cilantro
Sour cream
Instructions
In a large soup pot or Dutch oven over medium-high heat, brown the ground beef with the chili powder, onions and minced chipotles.
Crumble and brown the ground beef until fully cooked throughout and no pink remains; drain any fats that accumulate.
Add the tomatoes, tomato sauce, beans and broth to the ground beef; bring to a low simmer. When the chili is simmering, add the pasta and stir to combine.
Simmer the chili over low heat for 45 to 60 minutes or transfer the chili to a slow cooker and cook on low heat for five to six hours.
To serve, top with your desired toppings.
---