Sweet Potato Shepherd's Pie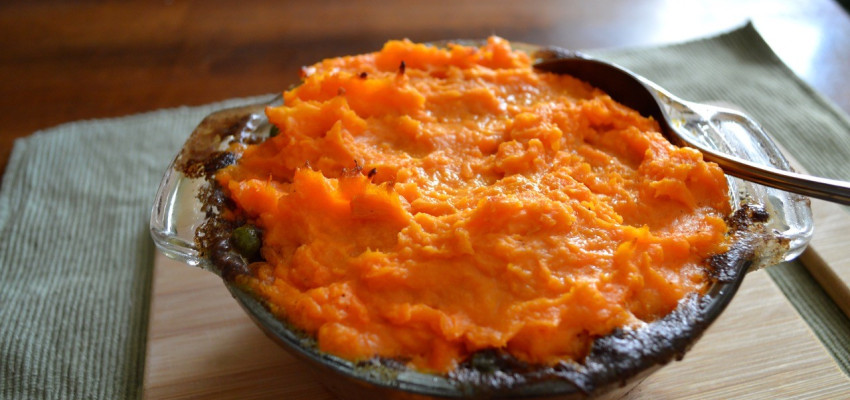 Ingredients
2 pounds ground beef or lamb                           
1/2 onion, diced                                       
1 tablespoon unsalted butter
4 teaspoons ground coriander
1 teaspoon ground cumin
1 teaspoon ground cloves
1 teaspoon ground cinnamon
1 teaspoon fresh ground pepper
1 teaspoon salt
1 cup frozen peas
4 tablespoons flour
2 14.5-ounce cans low sodium beef broth
1 ounce Irish whiskey, or to taste       
3 cups mashed sweet potatoes (see below)
Instructions
In a sauté pan over medium heat, melt butter, add onions and cook until soft.  Add in ground beef or lamb and spices, and then sauté until cooked through. Add the peas. Add the flour and cook for one minute, and then pour in the broth and whiskey. Bring to a simmer and cook until the desired thickness is reached.
Preheat the oven to 350 degrees F. Spoon the meat mixture into a casserole dish or individual serving dishes. Cover the top with the mashed sweet potatoes. Place the dish onto a rimmed baking sheet to catch any drips, and bake until the sweet potatoes start to brown on top, 20 to 30 minutes.
Sweet Potato Mash
2 pounds sweet potatoes, cut into cubes
1/2 cup unsalted butter
1/2 cup half and half
Salt and pepper, to taste
Cover the cubed sweet potatoes with water in a large sauce pan, and bring to a boil. Continue to boil until cooked through. Strain potatoes and return them to the pan. Add the butter and half and half, and mash with a potato masher, being careful not to over mix. Add salt and pepper to taste.
You may also like...
---