Marinated Sirloin & Succotash Packets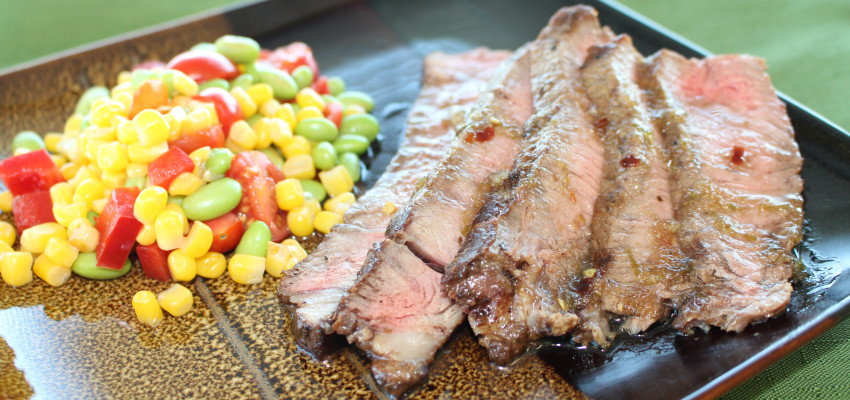 Ingredients
Marinated Sirloin
1 ½ lbs. beef sirloin steak
1/2 cup rice wine vinegar
1/2 cup sake cooking wine (or substitute white wine)
1/3 cup fresh lime juice
Zest of 1 lime
2 Tbsp. honey
2 Tbsp. soy sauce  
2 Tbsp. freshly grated fresh ginger root
1/4 - 1/2 tsp. red pepper flakes
4 cloves garlic, minced
2 tsp. kosher salt
1 1/2 cups vegetable or canola oil
Edamame Succotash
1 cup frozen corn, thawed
2 cups frozen edamame, thawed
1 small red bell pepper, seeds and membranes removed, chopped
2 Tbsp. unsalted butter, cut up
Salt and pepper, to taste
1 pint grape tomatoes, halved
1 Tbsp. chopped fresh cilantro
Instructions
To create marinade, place vinegar, wine, lime juice, lime zest, honey, soy sauce, ginger, red pepper flakes, garlic and salt in bowl of a food processor; cover and process until smooth. While food processor is running, slowly add corn oil. Reserve half of marinade for serving; cover and chill.
Place sirloin into a gallon bag and pour remaining marinade over steak; seal bag. Massage bag to coat steak; place in fridge to let marinate for 6-12 hours, turning and massaging occasionally throughout the marinating time.
Just before grilling, prepare foil packet of Edamame Succotash, omitting tomatoes and cilantro at this step. Fold two pieces of heavy-duty foil (24 x 12 inches in size) in half to make two 12 inch squares. Place half of the corn, edamame and bell pepper mixture into the center of each foil square; dot with butter and season with salt and pepper. Bring up two opposite edges of foil; seal with a double fold. Fold remaining edges to completely enclose vegetables, taking care to leave space for steam to build. 
Preheat grill to medium heat for direct cooking. Remove steak from marinade; discard marinade in bag. Grill steak and succotash packet for 16-18 minutes for medium rare (145 degrees) or 18-22 minutes for medium (160 degrees) doneness or until vegetables are tender, turning steak and packet once, halfway through grilling time. Remove steak and packet from grill; let rest for 5 minutes, tenting steak with foil.
To serve, thinly slice steak diagonally across the grain into strips; drizzle with reserved marinade. Open succotash packet and stir in tomatoes and cilantro; serve succotash alongside sliced steak. 
Want to learn more about beef? Visit these pages:
Looking for tasty beef recipes? Try these!
---