The Story of a Kansas Cattle Rancher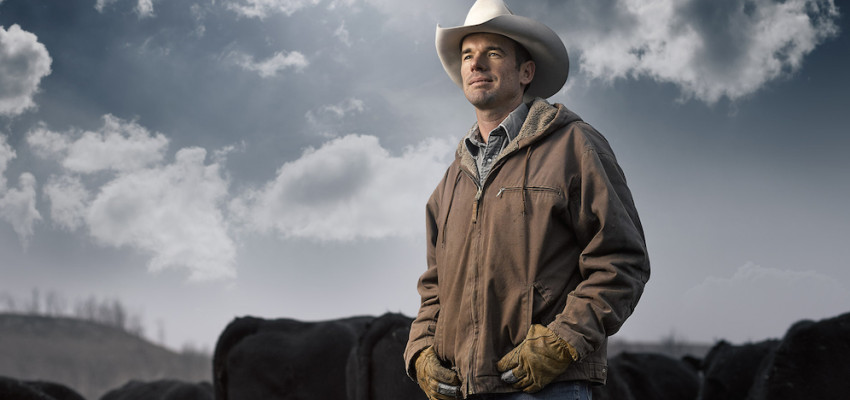 I used to work at a shoe store during college, and one thing I learned is you can tell a lot about a man by his shoes. As a man walks through the door, his shoes would begin talking and spilling a lifetime of stories before the man even had a chance to speak.  
For instance, you could tell if someone walked all day in their loafers or stood behind a desk, or if someone's running shoes were merely a fashion statement or a gateway to freedom through pounded pavement and gravel roads. People would always tell me what they wanted for a shoe, but in all honestly, I listened to their shoes more.
The same is true for the gloves of a cowboy.
The gloves do the introduction of a cowboy, not with a firm handshake, but through the honest and silent testimony of cracked leather that serves as a witness to harsh winters and hellish summers spent tending to the wellbeing of the cow, her calf, and the land. A cowboy's gloves give a glimpse into the daily routine of bucked hay bales, wrangled barbed wire, pounded fence posts, and doctored calves.
Meet Randall
Randall is a Kansas Cattle Rancher and KSU graduate with a degree in animal science. As his cracked and duct-tape-bandaged gloves attest, he is a hard-working, dedicated, and watchful steward of the land. He also happens to be a first-generation cattle rancher that was fortunate enough to partner with an existing ranch that has been around for over 100 years.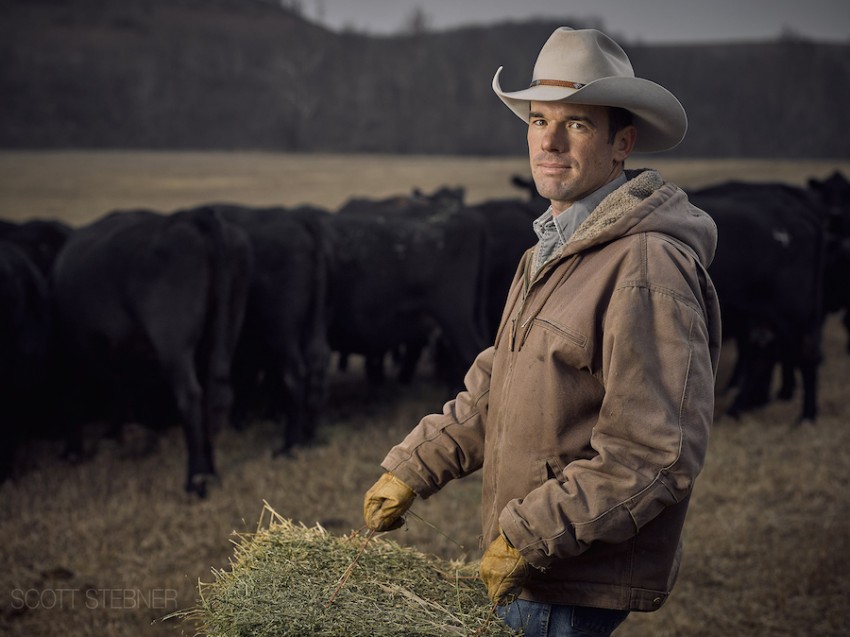 Randall is a caring father to three children and a husband to a kind and caring wife. Yet no matter how dedicated he is to the cattle he oversees, Randall knows that "without a shadow of doubt, the greatest crop that will come off of this ranch will be his children." He raises cattle by trade, but his life is spent raising children that appreciate hard and honest work that is seasoned with accountability and integrity. This struck a cord deep inside as I reminisced about lessons learned from my days in 4-H and FFA and how I desperately want my children to grow up with an appreciation for the land and livestock. Randall truly loves his job as a family rancher, but he is most passionate about how that position can be used to mentor his children to become men and women of substance.
That's when I began to understand Randall the father.
We load up all of my camera gear, light stands, and a dedicated assistant into the back of his pickup and drive out to the nearest pasture to meet a group of gorgeously plump and happy cows. For the most part, we were ignored.
Until he whistled.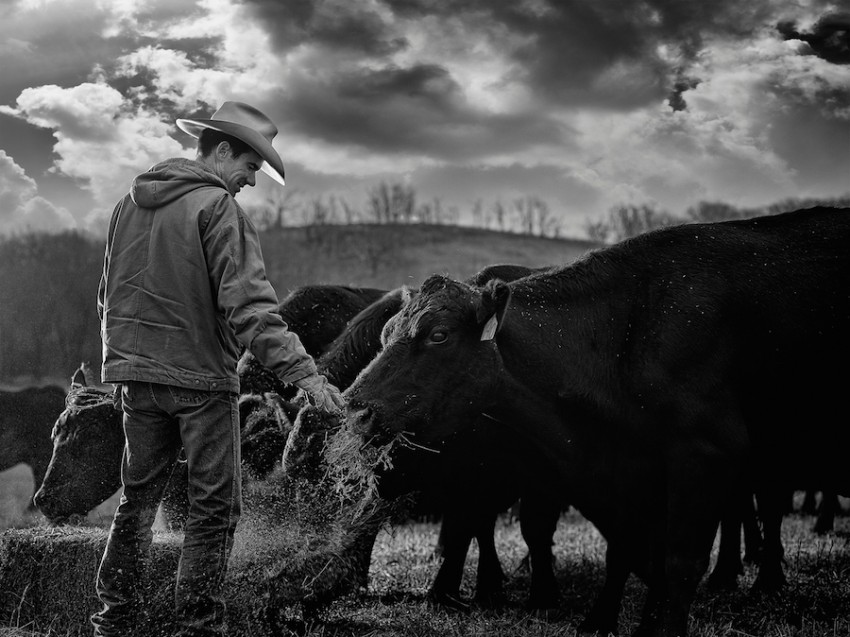 Distant cattle that once dotted the landscape grew closer with a calm and collected swagger befitting a bovine. And as the cows began to roll in, my eyes looked up from the viewfinder of my camera to watch those of Randall.
Shadowed and sheltered by the brim of his cowboy hat, Randall's keen eyes observed the herd. This was not a casual and cursory activity but instead a scientific investigation meant to systematically and completely evaluate the health of each individual cow.
That's when I began to understand Randall as a rancher.
There was not a single aspect of the land or the livestock that Randall did not know about from first-hand experience. A college-educated man, Randall had a well-thought out and very obvious reason for every decision made on the ranch. Every vaccine, every antibiotic, and every feed additive was given careful consideration and much scrutiny before being implemented to positively improve the health of his cattle, land, and ultimately the safety and quality of food for the consumer…That's us.
With that being said, Randall realizes the natural order of the cow grazing the land, and says, "The best thing I can do is nothing. The best thing is to just let them do what they do naturally, that's the ideal situation. However, if I do anything to them, it's for a very good reason. Nothing is done on the ranch just because we can."
In the video, Randall briefly talks about hormones used in beef cattle. If you would like to find out more information regarding the safety of beef from unbiased sources, follow the below links for articles that have been created by the FDA, University of Georgia, and the University of Montana.  
http://www.fda.gov/AnimalVeterinary/SafetyHealth/ProductSafetyInformatio...
http://animalrangeextension.montana.edu/Articles/Beef/Wklynwsltr/12-19.0...
http://extension.uga.edu/publications/detail.cfm?number=B1302
Did you enjoy this story? Check these out!
---