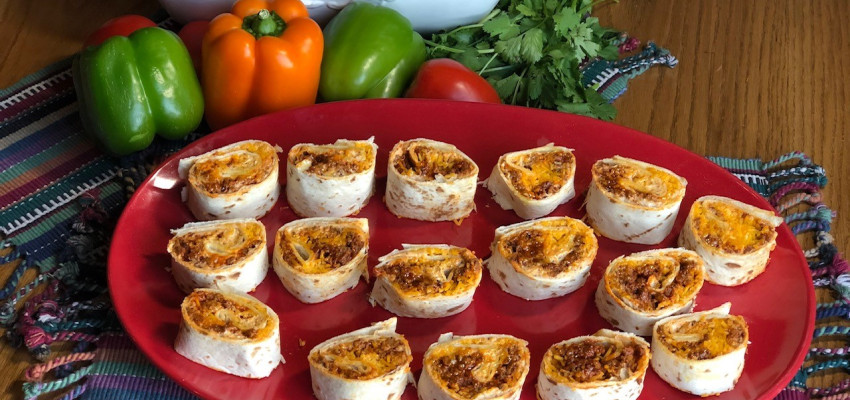 Ingredients
Filling 
2 lbs. ground beef, cooked and crumbled, fats drained well 
2 Tbs. taco seasoning, divided use 
2 Tbs. tomato paste 
8 oz. can Hunt's Roasted Garlic Tomato Sauce 
10 oz. can diced tomatoes and green chilies, well drained 
Spread
8 oz. cream cheese, softened 
1/2 cup sour cream 
Shredded cheddar cheese or Colby Jack cheese, as desired 
6-8 large flour tortillas, this can vary depending on how full you make each wrap before slicing into pinwheels 
Instructions
In a large skillet, over medium heat, add the tomato paste and 1 Tbs. taco seasoning to the cooked ground beef, stirring for one to two minutes, letting the tomato paste brown a bit. Stir in the tomato sauce and diced tomatoes, a little at a time, as needed, to make a nice thick meat mixture; remove from the heat to cool. 
Meanwhile, in a medium mixing bowl, combine the cream cheese with the remaining tablespoon of taco seasoning; stir in the sour cream, blending until smooth. 
Spread the prepared cream cheese mixture over each tortilla, working one at a time. Top the cream cheese on each tortilla with some of the cooled and reserved beef mixture, spreading it out evenly; sprinkle with cheese, as desired. 
Tightly roll up each tortilla, tucking in the filling with your fingertips as you go. Using a sharp knife, trim off each end of the prepared tortilla roll, then slice the roll into pinwheels, placing them onto a serving platter; serve at once. (Or, cover the pinwheels with plastic wrap and refrigerate until ready to serve at a later time.) Pinwheels are most flavorful when served near room temperature. 
---