Beef Fajitas with Fresh Mango Salsa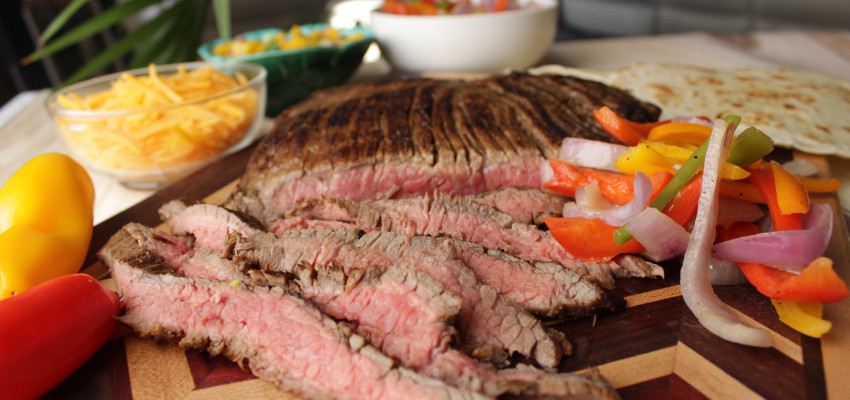 Ingredients
Steak
1 flank steak, approximately 2 lbs., seasoned with salt and pepper, to taste
flour tortillas, warm
preferred toppings such as cheese, avocado, sour cream
Marinade
½ cup orange juice
zest of 1 lime
½ cup lime juice (can be bottled)
¼ cup tequila, optional
1/3 cup good olive oil
3 fresh jalapeños, seeds and membranes removed, sliced
2 Tbs. chopped fresh cilantro
3 cloves garlic, minced
2 tsp. ground cumin
1 tsp. oregano
1 tsp. kosher salt
Mango Salsa
2 mangos, peeled and diced (may substitute canned or jarred mango if you cannot find fresh)
¼ cup red onion, diced
chopped fresh cilantro, to taste
juice of 1 lime
Grilled Vegetables
3 bell peppers, 1 each green, yellow and red, seeds and membranes removed, cut into ½-inch strips
1 red onion, cut into ½-inch strips
1 Tbs. canola oil
Instructions
In a large mixing bowl, whisk marinade ingredients to combine. Place the flank steak into a large freezer bag; add the marinade. Seal the bag, place it in a large bowl and refrigerate overnight for eight to 10 hours.
When you are ready to cook the flank steak, remove it from the marinade and pat dry; allow the flank steak to rest, uncovered, at room temperature for two hours. If your steak is still chilled when you grill it, cooking will take longer and beef will not cook as evenly.
In a small bowl, gently toss all the mango salsa ingredients together; chill.
Place the steak onto a preheated and oiled grill (or grill pan on the stove) over medium-high heat, searing the meat on both sides until caramelized and nicely browned. For medium-rare, grill the steak for five to six minutes per side, reducing the heat to medium, if needed.
When the flank steak has reached your desired doneness (135 F internally), remove the beef from the grill to a cutting board; cover well with foil, letting it rest for 10 minutes to raise in internal temperature to 145 F — the perfect medium-rare steak.
While the steak is resting, combine the prepared peppers and onions in a large mixing bowl; toss with oil, then season with salt and pepper, to taste. Place the vegetables onto aluminum foil on the preheated grill over medium-high heat, cooking just until softened, four to five minutes; cover and keep warm.
Using a sharp knife, cut the rested flank steak across the grain into very thin slices. Place the steak slices and vegetables into warm tortillas; top with prepared mango salsa and other preferred toppings like avocado, cheese and sour cream. Enjoy at once.
---