Chili Cheese Dog Dip with Fritos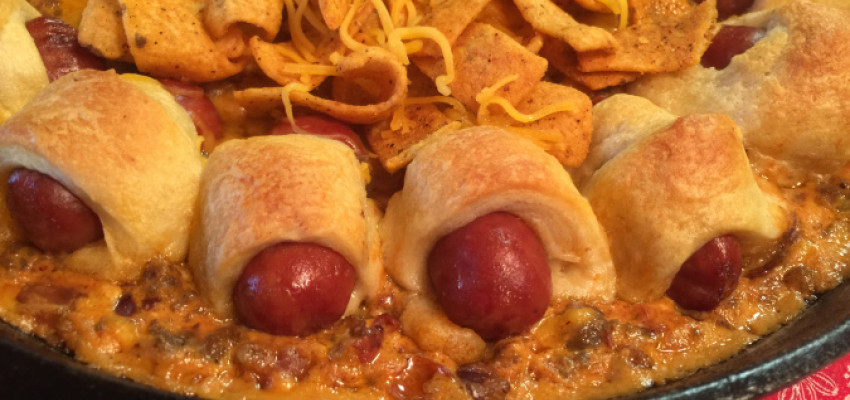 Ingredients
1 tube crescent roll dough
24 cocktail sausages, such as Little Smokies, browned off and cooled
1 lb. pork sausage, crumbled and cooked, fats drained
14 oz. can of your favorite chili
8 oz. pkg. cream cheese
1 tsp. smoked paprika
1 cup shredded sharp cheddar
Shredded cheddar, for garnish
1-2 cups Chili Cheese Fritos, for topping
Instructions
Preheat oven to 350 degrees F. In a large mixing bowl, combine sausage, chili, cream cheese, spices and cheese; place into a seasoned 10″ cast iron skillet or greased casserole dish, spreading out evenly.
Cut crescent roll dough triangles into 3 strips each and wrap each strip around a sausage, placing  each one around the outer edge of the skillet until circle is complete. Sprinkle a bit of cheese into the center of the pan, over the filling. Bake, uncovered, for 20-25 minutes until golden brown and bubbly at the center. Sprinkle with Fritos after removing from oven. Let rest 10 minutes before serving.
Tips
My favorite tailgate tip is...CAST IRON! 
I love it because it goes straight from stovetop to oven to grill. It stays hotter longer than other kinds of dishes. And the traditional black cast iron (not enamel coated) can sit right on the grill to keep your dish warm! 
Looking for more potluck, picnic and tailgating recipes and tips? Try these:
---