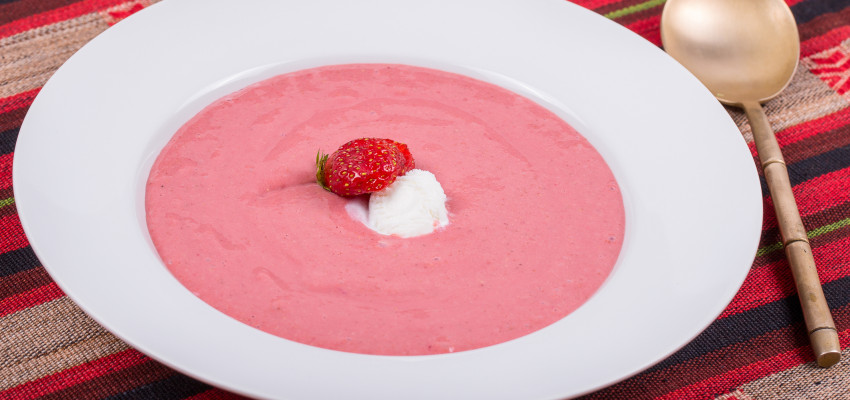 Ingredients
2 lbs. fresh strawberries, stemmed and sliced 
1/3 cup Amaretto liqueur 
2 cups vanilla yogurt 
1/2 cup orange juice 
1/2 cup milk, 2% or whole 
2 Tbs. granulated sugar 
2 Tbs. honey 
1/2 tsp. ground cinnamon 
1/2 tsp. vanilla extract 
1/4 tsp. fresh orange zest, optional 
tiny pinch kosher salt, optional 
Instructions
In a large bowl, gently toss the sliced strawberries with the liqueur. Cover and refrigerate for eight hours.
Drain the strawberries well. In a food processor bowl, place the strawberries along with yogurt, orange juice, milk, sugar, honey, cinnamon, vanilla, zest and salt (if using); process the ingredients until smooth. 
Pour the soup into a large bowl; cover and refrigerate until the soup is very chilled. As the soup sits and chills, it will thicken nicely for serving. Serve the soup garnished with sliced strawberries and mint, if desired. 
---