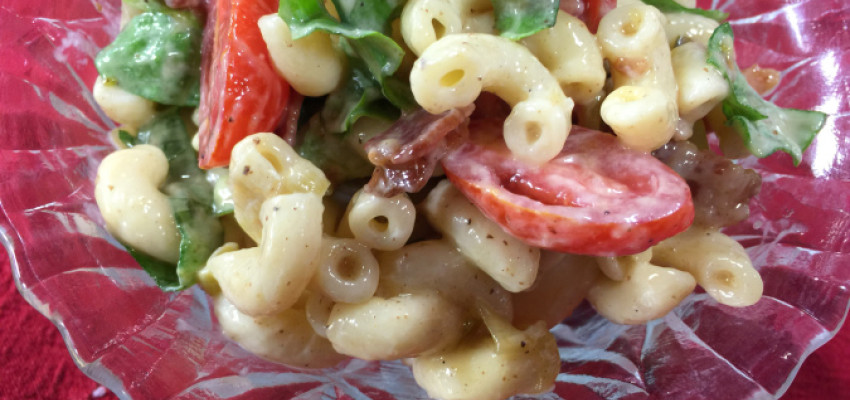 Ingredients
3 cups elbow macaroni, cooked according to package directions
2 cups chopped leaf lettuce
2 cups sliced grape tomatoes
3-4 scallions, thinly sliced
1 lb. sliced bacon, chopped
2 Tbs. spicy brown mustard
1/3 cup mayonnaise
1/3 cup granulated sugar
1/3 cup cider vinegar
kosher salt and freshly ground black pepper, to taste
Instructions
In a large skillet over medium high heat, cook chopped bacon until browned and crispy; set bacon aside on a paper-towel lined plate to drain.
Add mustard, mayo, sugar, and vinegar to bacon fats in skillet, whisking until smooth; season to taste with salt and pepper. Place cooked macaroni in a serving bowl with lettuce, tomatoes and scallions; dress with 2/3 of prepared dressing; chill for several hours. Just before serving, dress with remaining amount of reserved dressing, as desired.
Tips
Pasta salad is a popular tailgate dish, but to achieve the perfect dish for the whole pre-game party, there are a few secrets:
Always dress your salad while it's warm. That helps the pasta soak up all that flavor.
BUT set aside 1/3 of the dressing to add right before you serve it!
Finally, make your salad within 12 hours before you serve it so it doesn't start looking sad and mushy.
Looking for more potluck, picnic and tailgating recipes and tips? Try these:
---