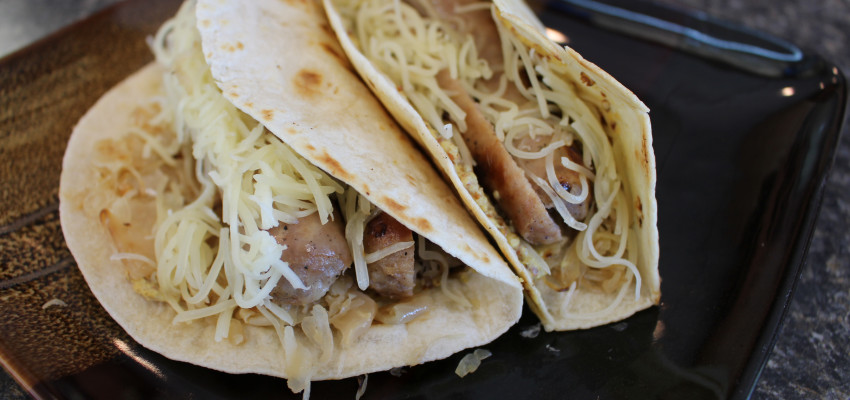 Ingredients
4 Brats, grilled and split in half lengthwise
1 large yellow onion, thinly sliced
1 to 2 tsp. canola oil
14 oz. can sauerkraut, rinsed and drained well
2 Tbs. granulated sugar
½ tsp. kosher salt
¼ to ½ tsp. crushed red pepper flakes
4 flour tortillas, 8 inch, warmed
¼ cup honey-Dijon mustard
1 cup shredded smoked Swiss cheese
Instructions
In a large sauté pan, sauté onions in oil over medium heat until softened and translucent, approximately 15 to 20 minutes.
Add sauerkraut, sugar, salt and red pepper flakes; combine well and continue to cook until nearly all of the moisture from the sauerkraut is gone and mixture is rather "dried out" looking.
Divide sauerkraut mixture in fourths, placing it the down center of each flour tortilla; place 2 brat halves on top of sauerkraut.
Drizzle 1 Tbs. mustard on brats and top with 3 to 4 Tbs. shredded Swiss. Fold up tortilla and dig in. Makes 4 fat brat wraps.
Find more tips and recipes on Chef Alli's blog at www.chefallisfarmfreshkitchen.com.
You might also enjoy
---