10 fun and easy BBQ hacks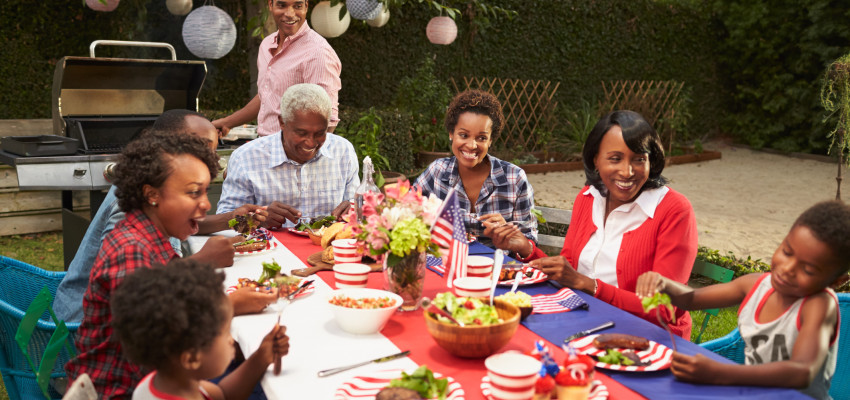 Don't sweat your summer BBQ. Use these 10 tips from Chef Alli to make your party the best in town.
1. Make Cooler Corn! 
Yes, you can cook corn-on-the-cob in a cooler, and you can do it for a  crowd! Here's how: 
Place shucked ears of corn into a large cleancooler
Completely cover corn with boiling hot water
Close lid tightly and let corn rest for 25 to 30 minutes
Open cooler, pour off the water and re-close lid
The cooler will keep the corn nice and warm for a couple of hours, and it's easy to grab and eat as needed.    
2. SMOTHER WITH BUTTA
To easily butter corn-on-the-cob, smear thick slices of bread with butter.  Wrap the bread around the cobs and rotate up and down the ear. Done!
3. FESTIVE DRINKS
Serve your beverages in chilled Mason jars that are covered with a festive cupcake liner, secured with the metal canning ring.  Poke a hole in the cupcake liner for your straw, and away you go. An added bonus--it's protected from those pesky flying insects.
4. KEEP 'EM COOL
Are you serving cocktails at your gathering?  Make the cocktails up in big chilled batches ahead of time and serve from large pitchers or pretty dispensers for easy access by guests. Add frozen fresh fruit slices and frozen strawberries to the dispensers to help keep the cocktails cold without diluting them. Another fun idea, keep frozen grapes in an ice bucket to use as "ice cubes."
5. up-cycle in style
Wrapping paper isn't just for gift giving! Up-cycle a six-pack box by wrapping it in colorful wrapping paper, then add condiment bottles, silver ware and napkins.  Wrapping paper also makes pretty and inexpensive table runners that you can toss away after your party. 
6. BACON MAKES EVERYTHING BETTER
Before grilling, wrap your hot dogs in bacon. 
7. Yep, you can eat it
Make an edible centerpiece for your event.  Place several sizes and heights of clear glass bowls and vases onto a large tray or mirror; fill with veggies and chips.  Don't forget to add a few bowls of dip for the kiddos.
8. DON'T FORGET THE SWEETS 
Looking for an easy, make-ahead dessert for the kiddos that's good on a hot evening?  Place scoops of assorted ice creams into a muffin tin, drizzle with your favorite toppings and freeze.  To serve, place bakery sugar cookies onto serving plates and top with the prepared ice cream "muffins."  Hand over the whipped cream to the kids and let them garnish their treat. 
9. CHILL
Keep beer, pop, and bottled water cold by filling up a wheel barrow or little red wagon with ice
push the bottles down into the ice a few minutes before guests arrive, then roll to the designated outdoor area
When the sun begins to set, add glow sticks to the icE
10. FUN FOOD
Pulled Pork Walking Tacos make everybody feel like a kid again.  Provide your guests with individual-serving size bags of corn chips or tortilla chips, warm pulled pork in a slow cooker, and assorted toppings and let them customize as they'd like. 
Looking for other picnic and potluck recipes? Try these:
---