Sylas and Maddy's Homemade Ice Cream
Store owners and dairy producers share the love of a popular summertime treat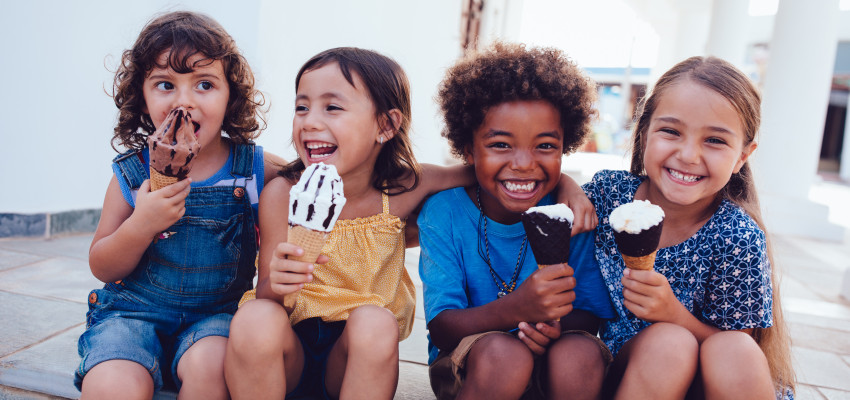 EDITOR'S NOTE: Dairy farmers and small business owners across the nation are struggling. The coronavirus pandemic has caused dairy producers to dump milk as coops and processors cope with a sharp decline in demand from food service companies and schools. To learn more about the impact on the dairy industry, visit www.kansaslivingmagazine.com/ dairyimpact.
Ice cream.
It's a treat that's there for you during all the ebbs and flows of your life — birthdays, weddings, heartbreaks and sometimes just to make life's regular moments a little bit sweeter. Kansas dairy producers and mom-and-pop ice cream store owners work to improve every one of life's experiences with ice cream.
Cindy and Jim England are firm believers that ice cream makes everything better. The Englands are the owners of Sylas and Maddy's Homemade Ice Cream stores in Lawrence and Olathe.
SETTING UP SHOP
When the Englands moved to Lawrence from Minnesota in 1996, they felt deprived of a classic mom-and-pop ice cream shop — so they decided to open their own.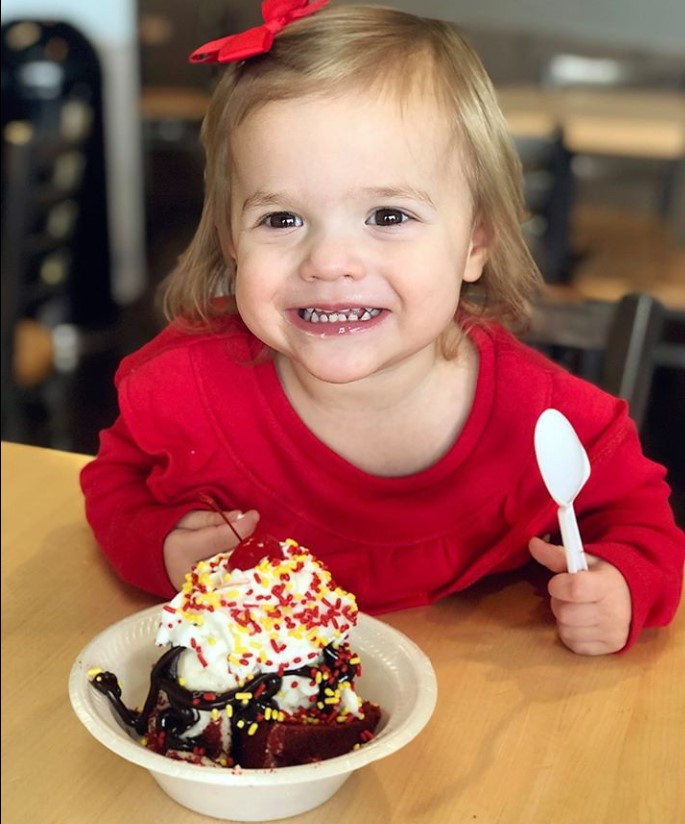 "Back in Minnesota there were mom-and-pop ice cream shops all over," Cindy says. "When we moved to Kansas, we could never find any really good places like that."
Only a year after moving to Lawrence, they found the perfect location on Massachusetts Street and opened Sylas and Maddy's. They also opened a second location in Olathe a couple years later.
The family-owned ice cream parlor is named after the owners' four-legged best friends.
"It started as a joke," Cindy says. "Our friend's cat was named Sylas and our dog was named Maddy. It just stuck and we couldn't think of anything else."
Seven days a week, employees of Sylas and Maddy's work hard to produce specialty ice cream flavors and buttery, crunchy waffle cones. Sylas and Maddy's has been voted the No. 1 ice cream shop in Kansas several times and featured in multiple tourism magazines.
The popularity of the store can be witnessed on a summer day when the line extends out the door and down the street.
"People should not be discouraged by the lines because our employees are efficient, fast and friendly," Cindy says. "They truly do a great job."
Sylas and Maddy's uses fresh ingredients in their ice cream flavors.
"We mix a fresh watermelon in our watermelon sherbet and all of our pie flavors have an entire pie added to each bucket of ice cream," Cindy says. "We carefully add these ingredients by hand, so we can proudly say our ice creams are one of a kind."
"Da Bomb" has been the top-selling flavor in both stores since the day Sylas and Maddy's opened. This flavor is blasted with cookie dough, Oreos and chocolate flakes hand-stirred into the scrumptious sweet vanilla cream base.

The Englands put this level of care into each of their 150 flavors of homemade ice cream.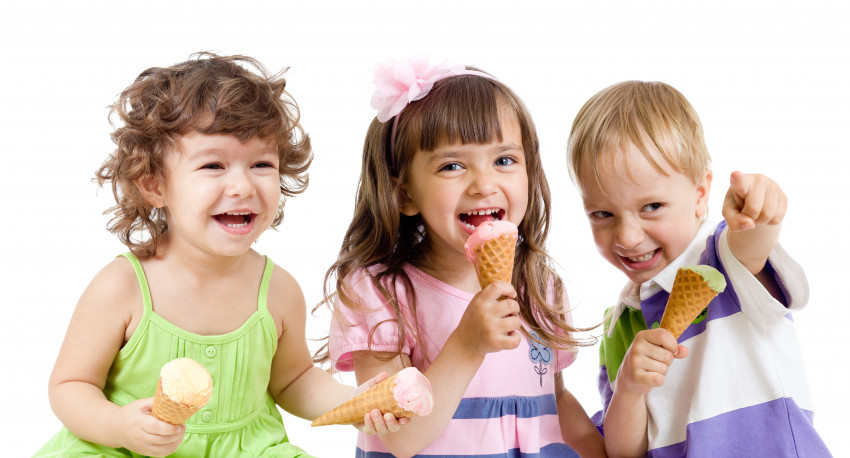 COMPANY COMMITMENT
Stores like Sylas and Maddy's are important to the Kansas economy and to the Kansas dairy industry. Samantha Carter, the marketing and communications manager for Midwest Dairy, says family-owned ice cream shops truly contribute to the dairy industry.
"It's all about bringing a positive dairy experience to the consumer, and when they come into smaller, local ice cream shops like Sylas and Maddy's, they get that positive experience," Carter says.
Sylas and Maddy's source their dairy from Anderson Erickson Dairy, located in Des Moines, Iowa. The dairy is family owned and has been committed to making dairy delicious for more than 80 years.
"Anderson Erickson has been a wonderful dairy to work with," Cindy says. "They have our special recipe and make the cream for our base."

Anderson Erickson starts its processes with milk fresh from family dairy farms. All the products are made in small batches, using timetested recipes and techniques. A team from Anderson Erickson performs a thorough taste test each week by sampling and judging the texture, taste and aroma of each product before it's transformed into countless ice cream flavors.
"We eat for enjoyment, and ice cream is always here for us," Carter says. "It's accessible, and always intriguing, with countless new flavors to enjoy. Ice cream is there to help you savor some of your most special moments."
DAIRY FARMERS LOVE ICE CREAM, TOO
When you're enjoying a heaping scoop of ice cream during those special moments in life, remember it started with a dairy farmer who cares about producing a safe, quality product.
"When I was a kid, we sat on the tractor motor while grandpa churned ice cream," MeLissa Dryzmalla, a dairy farmer in Newton, says. "It was definitely a special summertime treat. For my kids, our favorite thing to do is usually, one night a week, get ourselves a cone at Braum's while we take a little drive."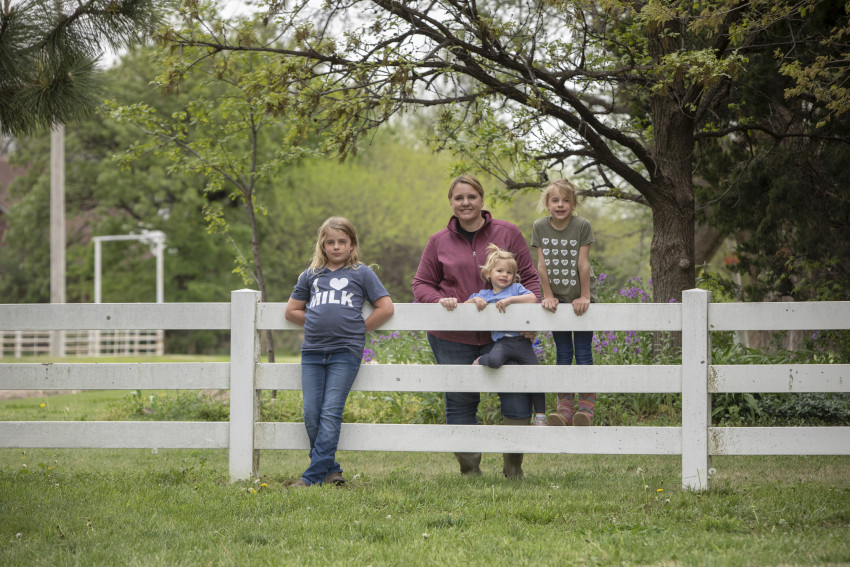 MeLissa and her husband, Stephen, milk 200 Holstein cows on their fifth-generation farm. Holsteins are known for the volume of milk they produce.
The milk from the Dryzmalla farm goes to Hiland Dairy in Kansas City. Hiland is a member of Dairy Farmers of America, a cooperative of 14,000 U.S. dairy producers.
The Dryzmallas are committed to doing what's best for their cows so they can produce safe products.
"We have a daily milking routine where we look at food safety and food quality," Dryzmalla says. "It's always at the forefront of our mind. Every time we milk a cow, we think about how someone will enjoy our product."
NUTRITIOUS AND DELICIOUS
Milk is packed with nutrition. In an average scoop of ice cream, you'll find vitamins A and D, riboflavin and calcium.
"To take something so dense and nutritious and make it a sweet treat is a really cool thing about milk," Dryzmalla says. "Most people know ice cream as a dessert food, but it is nutritious, too. It's the best of both worlds."
Whether you're celebrating a milestone, getting through a difficult time or craving something sweet, ice cream is the ultimate treat to enjoy.
Drop by Sylas and Maddy's or your local ice cream parlor for a scoop (or two).
---