Covid-19 creates uncertainty at Kansas dairies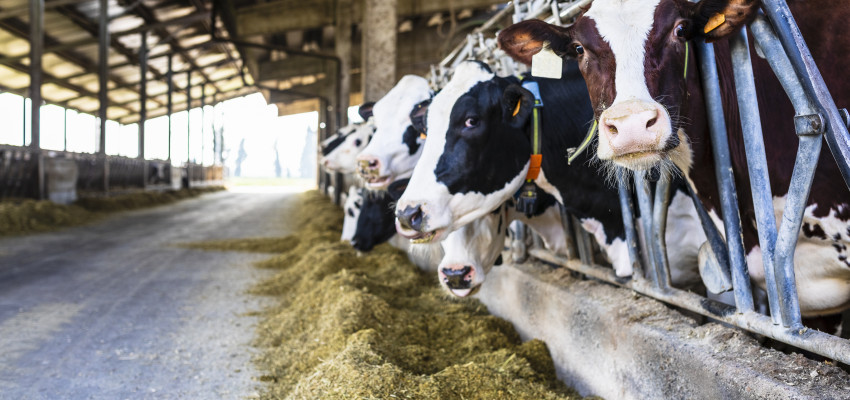 Dan Wiebe and his wife Kerry milk about 100 cows each and every day on the last remaining dairy farm in Butler County. The Wiebes have watched a "fairly good" milk market fall off a cliff over the past few weeks as Covid-19 upended the industry with the closure of restaurants and schools.
Still, Dan says Keriel Dairy is fortunate because it has some protection through the U.S. Department of Agriculture's Dairy Margin Coverage, a voluntary program that covers some costs if revenue falls below the cost to produce milk. The Wiebes signed up for the program in the fall, well before the pandemic hit.
"They're projecting for either April or May that the coverage will be paying out $5 per hundredweight (roughly 11.63 gallons of milk)," Dan says. "That's how bad the price is."
When the year began, Dairy Farmers of America (DFA), the cooperative the Wiebes sell their milk through, paid about $18 for every 100 pounds of white liquid. The price declined between 20 and 40 percent depending on the class of milk produced by early April.
"The problem is that insurance payment is going to lag behind probably 60 days," Dan says. "There's going to be a two-month window where we're getting a third off our normal milk check."
MODEL INTERUPPTED
Freefalling milk prices are the result of sharply reduced demand from schools, restaurants and other institutional buyers. The supply chain to service those accounts can't quickly shift to fill retail packages.
One example Dan gave is cheese destined for restaurants is packaged in bulk bags or large blocks, both of which are now sitting on packed warehouses.
"The price is right," he says. "The plants would love to buy milk and make cheese, but they have no place to put the cheese because it's not going out the door."
That disconnect has led DFA to dump some milk. While none of the Wiebes milk has been dumped, DFA is suggesting dairies consider a 10 percent reduction in what they produce.
Dan says there are a number of steps dairies can take to reduce their milk output, like removing lower-producing cows from the milking stream, feeding more to calves than normal, and "drying" cows, or increasing the number of days a cow doesn't produce milk.
CARES ACT
The Coronavirus Aid, Relief and Economic Security Act will provide help to farmers and ranchers, including those in the dairy industry. The details of the package aren't fully known, but there will be money for direct payments and additional funding for Dairy Margin Coverage.
The U.S. Department of Agriculture also will partner with regional distributors to buy $3 billion in fresh produce, dairy and meat. The food products will be packaged in boxes and shipped to food banks, community- and faith-based organizations, as well as other nonprofits. The goal is to begin shipping boxes as soon as May 15.
The program aims to support those who grow food and those who need it most while minimizing the amount of waste.
LIFE UPENDED
At McCarty Family Farms, supply and demand are less of a factor because of the dairy's unique business model. Ken McCarty and his three brothers operate five dairies, including three in Kansas. They sell their milk on a cost-plus basis to Danone, which turns it into Dannon yogurt.
"Basically, our books and our business are fully transparent to them," McCarty says. "We have a guaranteed profit margin, but we work collaboratively on things that maybe are important to not only us as a company and Danone as a company but society in general."
Covid-19 hasn't affected the bottom line at McCarty Family Farms, but it has changed how they and their 200 employees operate.
The McCarty dairies have implemented social distancing policies, restricted access to nonessential vendors, shifted deliveries from essential vendors, limited the number of workers allowed in breakrooms and reevaluated their entire supply chain.
"We have visibility to the direct impact to the team members we see every day," McCarty says. "We have the good fortune of being able to go to work every day. A lot of people don't have that."
McCarty says his teams have had a minimal impact from school closures, and there are still plenty of conversations about helping workers with spouses who may have lost a job.
BROADER FALLOUT
McCarty says there's opportunities for the dairy industry in the form of lower input costs for fuel and feed, but he worries that may not be enough for some farmers and ranchers.
"The situation in general for the dairy industry and the ag market as a whole is dire," he says. "We at McCarty Family Farms are very concerned about the long-term implications this will have on rural America."
McCarty says rural America runs on razor-thin margins in the best of times. He's worried about how the downturn will affect schools, hospitals and small businesses in the communities where the family milks cows. While McCarty has a guaranteed profit margin, he recognizes many, especially in the dairy industry, are not as fortunate.
"We count our blessings, but we're still dealing with a tremendous amount of uncertainty even in spite of all the good things we have," he says. "The stress load is high, and we're not dealing with a lot of the stress that other people are."
---