Cruise Cocktails for Summertime
Please drink responsibly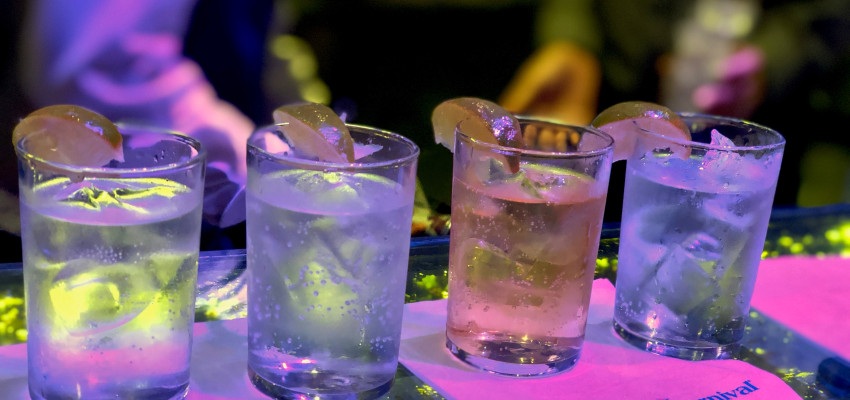 Looking for adult summer beverages to chill the Kansas heat? I've discovered one of the best places to get ideas is on a cruise ship. They are pros at making fun, tropical drinks to enjoy in warm breezes and sunshine. I've been on three cruises and find myself ordering these drinks over and over again. So much so, I now make them at home.
 I have always sailed on Carnival ships. The first one was the Magic, where I was introduced to the Fun Ship Special, which is one of their most popular drinks. Servers carried trays of this festive, tropical concoction around the lobby area as guests boarded. A mixture of rum, vodka, amaretto and apricot brandy with orange, lime and pineapple juice and a splash of grenadine, it is a beverage sure to put you into instant vacation mode.
My next cruise was on the Carnival Dream. The Fun Ship Special was the first drink I had upon boarding and it was as good as I remembered. Then I noticed waitstaff carrying trays of a beautiful orange and red drink. I asked one what it was, and he replied, "A Kiss on the Lips."
That caught my attention! After I tried one, I was hooked. The blend of mango and peach made a delicious tropical combination.
 This year, I made a return trip to the Dream. My first drink was a Kiss on the Lips. Then I enjoyed a Fun Ship Special. However, I wanted to add another cocktail to my cruise drinks list. That's when I discovered the Tropical Mule.
This drink is a variation of the Moscow Mule, which is vodka and lime juice topped with ginger beer. The tropical version is a combination of Malibu coconut rum, banana liqueur and lime juice with ginger beer. It was light, refreshing and perfect for the hot Caribbean weather.
One evening, I did a mini-mule tasting. The bartender set up small glasses of the Moscow Mule and seven variations, including the tropical version. Needless to say, I could only take a sip or two from each if I wanted to find my way back to the stateroom. However, I did drink all of the Peach Mule, made with Absolut Citron and peach schnapps. Another summertime winner.
Each of the Carnival beverage managers on the ships were kind enough to share the drink recipes with me. They are top choices on my cocktail menu when the weather heats up.
---