Why You Should Buy Our Antibiotic-Free, Pastured Pork
Hint: the reasons aren't what you think
This post was originally posted at Valerie's blog and can be found here. She graciously let us share it on Kansas Living online for you to enjoy. 
Last November, my husband and I dove headfirst into raising pastured pork. Our friend who was raising them had his barn destroyed in a storm and needed them somewhere that would offer shelter for the winter.  He called us, and after two days of fixing fence in a two-acre pen and moving shelters into place, we started hauling them to their new home.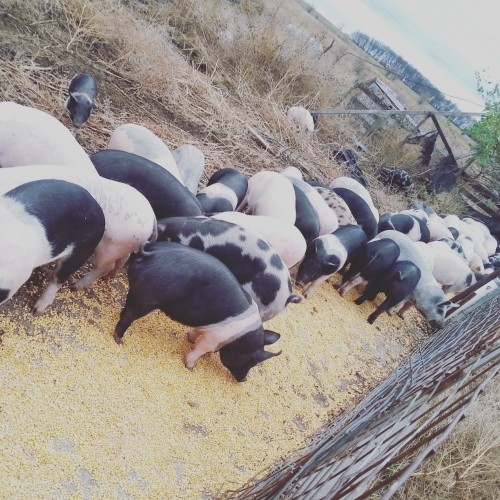 Now, four months later, the hogs are ready to turn into bacon and we are faced with the question of how to advertise them. We're told we'll make more money if we present them as "all-natural, antibiotic-free, growth promotant-free pastured pork".  All of these descriptions are true of our hogs, but not one of these popular phrases are actually a valid reason to buy our pork.
"All natural" is a vague term that can be interpreted a hundred ways.  "Antibiotic free" describes all meat sold in the U.S., even if the animal was once treated by antibiotics.  (We haven't given any antibiotics to our hogs because, so far, they've all been healthy, but we wouldn't hesitate to give our piggies medicine if they needed it.)  We don't use growth promotants like ractopamine because we aren't set up to use them properly, not because we don't think they are beneficial or safe.  (They are.)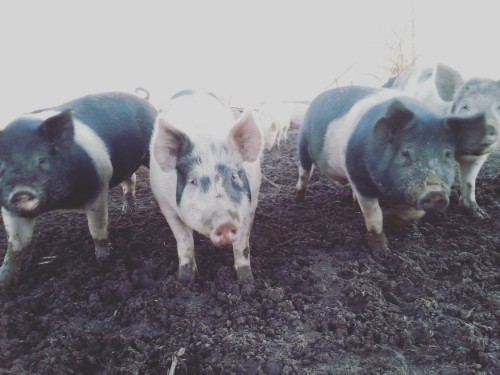 "Pastured" pork does not mean that they raised in a safer, more humane environment.  Until 2009, our family raised hogs only in barns, and they were cared for with the same love and respect that we give our outdoor hogs.  We find joy in seeing our pigs root in the dirt and roll in the mud, but there are many valid reasons for raising pigs indoors.
But don't let me talk you out of a good thing. 
After discussion, we agreed that, morally, we absolutely could not market our hogs using these catchy titles because of the unnecessary fear and conflict they create, but we also realized we don't need to.  
There are plenty of great reasons for buying a hog from us, and we can stand behind these reasons with a clear conscience:
Quality.  The top-quality cuts coming from big packers like Tyson & Smithfield get sent to restaurants, hotels and other places willing to pay more.  What you find at the grocery store is still delicious, but there is even yummier meat out there - like ours.  
Savings. The average cost of our meat is somewhere between $2.75-$2.90 per pound after you figure the cost of the pig and the processing.  This is for bacon, pork chops, loin, ribs, sausage links, porkburgers, ham and whatever else you dream up to have the locker cut for you.  I'm sure if you really watched for sales to stock up from grocery stores you probably could,  but again, you are sacrificing quality. (Not to mention time!)
Convenience.  I love spontaneous get togethers with friends, don't you?  Having a freezer full of meat makes pulling together a last-minute dinner party a breeze.  On a more practical, day-to-day level, I know that even if I haven't seen the inside of a grocery store in two weeks, I can still throw together a healthy, yummy meal for my family.
Your $ goes to your friends, not China. In 2015, Smithfield Foods, the largest pork producer and packer in the U.S. sold out to a company in China.  I'm not implying that if you buy their brands that every dollar is going overseas.  In fact, for the American farmers that actually do the work of growing their pigs, very little has changed.  They still get paid to raise the pigs, and you are still keeping them employed when you buy Smithfield brands.  However, I get a little twitch in my eye knowing that a communist government half a world away profits from American farmers, (any more than they already do...)
Anytime you buy anything in America, you are supporting a local someone somewhere, whether it is a Kansas hog farmer, a California broccoli grower, or the truck driver moving the food up and down the roads.  

There are so many benefits to having the world's safest and most efficient food supply, and I am in no way saying we shouldn't support that.  
However, if you are like me, you think that your neck of the woods is pretty awesome and the people who live there are some of your faves.  It can be a wonderful thing to directly support your friends and neighbors by buying food locally.  And if you can support your community while getting quality, savings and convenience, why wouldn't you?
If you enjoyed this story, you can learn more about Valerie and her roadside produce stand, The Fork in the Road, by going here. 
---