Five Ways Agriculture is Going Green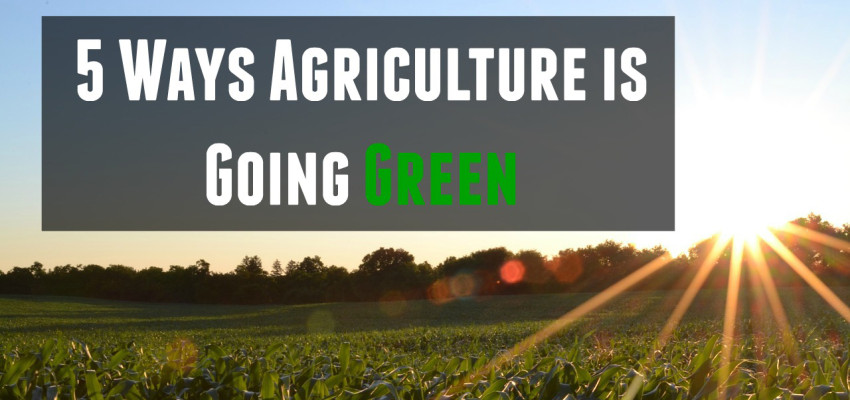 With global warming and environmental policy "trending" in current news headlines, Presidential debates and social media, we're often the recipient of information overload on all things #GoGreen.
As an avid agriculture and outdoor enthusiast, I'm all about keeping our earth clean.
There are few things as satisfying as feeding cows on a cool crisp Kansas morning – drinking in the panoramic views and inhaling the rejuvenating prairie air. I want this amazing outdoor space to be just as invigorating for the next generation as it is to mine, and I'm not alone.
As stewards of the land, farmers are keenly aware of the unique responsibility they have regarding environmental conservation. Agriculture is dependent upon the environment; a healthy earth is necessary to produce healthful food.
Check out these five ways agriculture is going green:
Conservation Tillage
Did you know it takes up to 300 years for one inch of agricultural topsoil to form, and under previous cultivation practices, an average of 10 times as much soil eroded from U.S. fields than was replaced by natural soil formation?
Over the past few decades, agriculture has gotten very serious about soil conservation. Thanks to wide-spread use of conservation tillage techniques, such as No-till, Ridge-till and Mulch-till, farmers are able to protect our valuable soil resources and produce much-needed food products for our communities.  
Environmental Empowerment
A clean and sustainable environment is essential to agriculture. As an industry, agriculture offers multiple incentives for environmental innovation adoption by producers – awards, cost-share programs, grants, etc. 
Here's a few:
Kansas Farm Bureau Natural Resources Award
USDA Rural Development grants and loan programs
USDA National Institute of Food and Agriculture grants
Genetically Modified Organisms (GMOs)
Cultivation of GMO crops offer multiple environmental advantages, such as reduced chemical applications, decreased soil erosion, improved water quality and decreased greenhouse gases.
In 2012, the environmental improvements associated with GMO cultivation were equivalent to removing 11.9 million cars from the road for one year. How's that for improved emissions?
Urban Agriculture
Have you heard of New York City's PlaNYC initiative – a program dedicated to reclaiming vacant lots for inner city agriculture? Vertical and rooftop farming, hydroponic and aquaponics cultivation, urban beekeeping, backyard poultry and other smaller scale agricultural practices are "cropping" up all around the country.
Water Conservation
Agriculture is a major user – think 80 percent - of ground and surface water in the United States. Given that it takes water to grow anything – from corn to cattle – this high usage stat shouldn't come as a surprise. During periods of drought, such as California's recent dry spell, agriculture's water use often comes under the proverbial gun.
To improve production efficiency and assist with water conservation, the USDA and state agricultural organizations have implemented multiple programs to assist producers with improved irrigation efficiency – decreasing water usage while optimizing production. It's a win-win for everybody.
Did you enjoy this story? Check these out!
---
---