Understand what GMO labels on food mean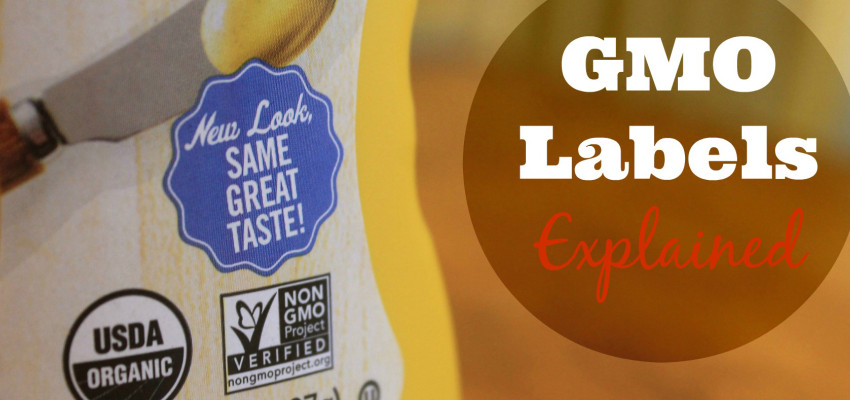 Food labeling is a big deal for today's consumers – have you looked at your food packaging lately?
Check out the seals and certifications touting "Gluten-Free," "Certified Organic," "No Added Hormones" – wow that's a lot of labels!
Even my dog's food boasts "100% Natural" labeling (not that Fido notices).
GMO Labeling Debate
To label or not to label? You may have seen a few headlines and Facebook posts calling for mandatory GMO labeling in the United States. 
It's become quite the debate.
Mandatory GMO food labeling proposals have resurfaced on the congressional floor. A few states like Washington and Vermont have even created GMO labeling programs in the absence of federal regulations.
The FDA recently released guidelines for voluntary – not mandatory – GMO food labeling.
Consumers aren't happy.
Consumers want to know what's in their food and feel the responsibility lies with food companies to disclose whether or not their products contain GMO ingredients.
GMO-free Grocery Run
When I was researching for this post, I decided to try only buying non-GMO labeled products on my weekly grocery run. Loading up in my ol' farm truck, I ventured to a health foods store recommended by my all organic colleagues.
Expecting almost everything to be labeled as "GMO-free," I was surprised to have to scour the shelves and ask store associates for assistance in locating for anything possessing the "GMO-free" label. I eventually found a $5 bottle of "GMO-free" mustard and a bag of blue "GMO-free" tortilla chips (Go Royals).
Sifting through my grocery finds, I noted three primary labels: USDA Organic, Non-GMO Project Verified seal and All Natural. Feeling pretty smug about my "organic-colleague-approved" (and over budget) grocery run, I brought my food home and did some digging.
I was surprised to get the scoop on these premium products.
USDA Organic label means the product had been certified by a third-party source where production complied with USDA Organic guidelines. All USDA Organic products are free of genetically modified organisms, so products labeled as such are GMO-free.
Non-GMO Project Verified seal marks products containing less than 0.9 percent genetically modified organisms (so not truly 100 percent GMO free). Like the USDA Organic certification process, this seal is provided via third-party testing.
All Natural is an interesting claim. More than 60 percent of Americans believe "Natural" means "Non-GMO," but such is simply not the case (CBS News). Urvashi Rangan, executive director of the Food Safety and Sustainability Center at Consumer Reports, stated, "With 'natural,' any manufacturer can pretty much stick it on their package. It doesn't mean very much."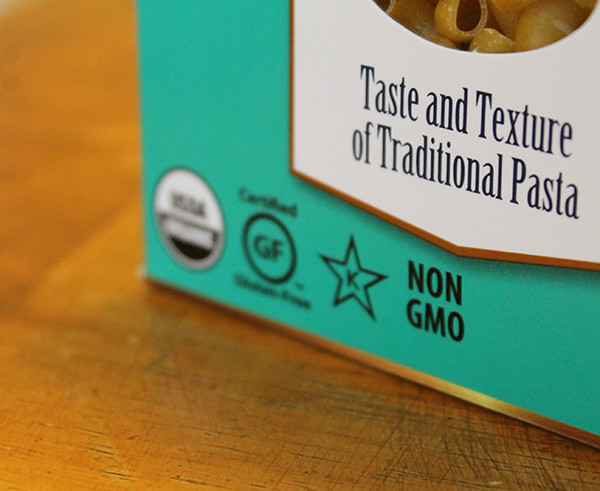 Who do GMO labels benefit?
As a millennial consumer, I like knowing what's in the food I'm buying but worry about the monetary impact mandatory labeling will have on my family's food bill
As a marketer, I worry that today's not-so-regulated food labeling may mislead consumers' food purchases.
As a farmer, I'm concerned about how mandatory GMO labeling may sensationalize a non-science based regulation.
We should also probably point out here the additional costs associated with GMO labeling. Who will that cost fall on – the farmer, the marketer, the consumer?
Both sides of the GMO Labeling debate have unique sets of concerns:
How will mandatory GMO labeling affect purchasing decisions and the agriculture industry as a whole?
How will lack of oversight into current food labeling mislead consumers?
Making Healthy Food Choices for your Family
Many changes regarding GMO labeling requirements are currently taking place in the United States. Regardless of what side of the debate you set up camp, it's my hope that you understand what current food labels really mean and are able to make informed food purchasing decisions for your family. 
Did you enjoy this story? You might also enjoy these:
---