Turning Wrenches into Opportunities
County Farm Bureaus in Kansas make impacts across the state during pandemic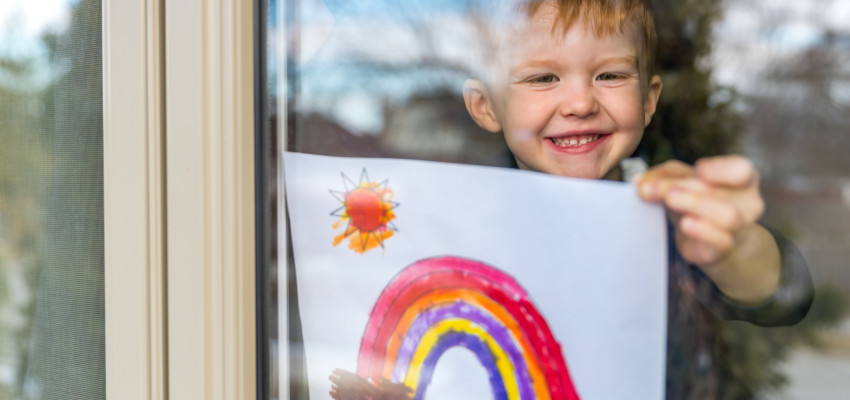 Wrenches have been thrown into 2020. Wrenches named COVID-19. Even with the wrenches thrown in, county Farm Bureaus in Kansas took those wrenches and twisted their programming to fit new bolts. They adapted, made the most of the situation, saw the needs in their communities and fulfilled programming in advocacy, education and service.
It's this creative ability to adapt that has proven the success of Kansas Farm Bureau and each county Farm Bureau across the state.
Every year, counties work closely with community leaders and organizations to establish new programs or enhance existing programs to engage members and entice new members to join. This year, county work had to be thought of in different ways and outside of the proverbial box to meet members' needs.
Advocacy
Connecting with legislators is an important aspect of county Farm Bureau work, not only in election years, but every year to build relationships with elected leaders and show the importance of agriculture in the state.
This year, as the legislature had to suspend its session in March due to COVID-19, Sedgwick County Farm Bureau made sure to stay connected to its elected officials to ensure farming and ranching wouldn't be affected by the stay-at-home orders issued by Gov. Kelly.
"I talked with a couple county commissioners the day they were rushing to put together their stay-at-home order to make sure ag workers would be exempted," Anthony Seiler, executive director of Sedgwick County Farm Bureau, says. "Farmers and ranchers still needed to be able to continue their work."
While farmers and ranchers were continuing their important tasks, made even more apparent by the increased need for food and decreased choices on grocery store shelves, people working on behalf of ag workers like Seiler were able to convey important information to government officials.
"I participated in weekly phone calls with American Farm Bureau Federation and learned how USDA and other officials in Washington, D.C., were working to help those in agriculture," Seiler says. "I also participated in a U.S. Senate Ag Committee conference call to share perspectives from the countryside as I heard them from Sedgwick County Farm Bureau members. Information was shared both ways – I would share information via electronic methods with our members that was important to them."
The history of Farm Bureau was beneficial in helping provide members with support from elected officials, both in D.C., but also local and state officials. It's the relationship already formed that was crucial in keeping a line of communication open.
"When our legislators are faced with a rapidly changing situation like COVID-19, there's no time to build a relationship or introduce ourselves," Seiler says. "Legislators are under the gun and look to trusted sources and existing relationships, like those with Farm Bureau and our members to understand how the decisions they are considering will affect farmers and ranchers."
Education
Educating the public about where their food comes from is a task county Farm Bureaus take seriously. They have ag days for kids, go into classrooms, and implement other programs for adults and kids alike. When the pandemic caused schools to close and students to switch to online learning at home, county Farm Bureaus stepped in to help.
In Ellis and Trego counties, they saw an opportunity to join to help students, teachers and parents.
"We wanted to keep the connection we had built with students and teachers the past two years in providing agriculture education," Stephanie Eckroat, county coordinator for Ellis County, says. "I was so used to seeing the students every month and when we learned the schools would be shut down to the end of the year, we knew we had to do something consistently."
Every Tuesday when students had to switch to online learning at home, Ellis and Trego counties developed Facebook live video opportunities for learning about agriculture. There were cooking demonstrations, tours and on-the-farm experiences, which even included a cow giving birth.
"The videos on Facebook were so popular that we continued the videos throughout the summer," Eckroat says. "The fun thing about it was that parents were watching these videos, too. There was real value in what we were offering during a difficult time."
The two counties developed 35 videos with more than 20,000 views. Adjusting and being creative helped students, teachers and parents ease the transition. To see the videos, visit their YouTube channel.
Another county, Dickinson County, took an idea originally created in Vermont called Ag Story Walk and "Kansas-ized" it by working together with their local K-State Research and Extension unit.
The premise behind Ag Story Walk is to take a children's book that teaches about agriculture and make each page a sign that families read as they walk a designated route following the order of the book. The path of the book went through two downtown areas of the county, where 18 businesses agreed to post pages from the book in their storefronts. The book they selected was Farmers and Ranchers Care About Their Animals by Dan Yunk.
The Ag Story Walk shares accurate agriculture information to consumers, promotes local farm product retailers, supplies healthy food for families and provides a safe, socially distanced activity for families to enjoy during the pandemic.
"We continued our plans for this event once COVID-19 hit," Jennifer Latzke, Dickinson County Farm Bureau county coordinator, says. "Because it offered a safe, socially distanced activity household members could enjoy together outdoors, while also providing help to needy families in our community by supplying them with fresh local beef if they completed the Ag Story Walk and survey."
The original plan was to hold the event in conjunction with the county fair and offer vouchers for fair food. When the county fair was canceled, they decided to go ahead with the Story Walk and provide fresh, local beef because the event would help families facing reduced budgets and low meat supplies at local grocery stores.
"We contacted three Dickinson County Farm Bureau members who held state licensing to sell fresh beef from their farms to see if they could help supply the meat," Latzke says. "And in each of the towns where we had the story walk, the grocery stores donated hamburger buns to families who received locally raised beef."
Thirty pounds of beef were given to families who completed the Ag Story Walk, helping several families in the area and creating excitement around learning about agriculture. Although the original plan saw some adjustments, Latzke knows adapting is just part of being involved in agriculture.
"Resilience and adaption have always been a part of agriculture," Latzke says. "You plan ahead, but then you get up in the morning and look at the sky to determine the day's activities."
Another activity in Butler County also saw the reality of having to be flexible and show resiliency with one of its educational events.
Tiya Tonn, the county coordinator for Butler County Farm Bureau, made all the plans for a Farm to Fork event that takes elected officials and civic leaders to area agriculture operations. Members were originally scheduled to speak on tour buses while urban consumers and elected officials learned from them and visited farms and ranches in the county.
When COVID-19 hit, the idea of getting folks on buses had to adjust to keep everyone safe. That's when Tonn had the idea for a "Touchless Tour" and the mental wheels started moving.
"This was the fifth year of doing this programming," Tonn says. "We didn't want to lose the momentum. We knew positive messaging was needed more than ever and as food shortages became a reality, consumers were asking more about where their food came from."
Initially, the plan was to visit five locations, but an amazing 28 locations throughout Butler County agreed to participate in the July 9 event. Instead of buses, participants traveled throughout the county in their own vehicle to enhance social distancing and safety protocols. The county Farm Bureau provided an $8 map of all the stops, what each location offered and other pertinent information. The touchless tour also featured an online activity packet with more than 200 videos, activity pages for kids, recipes and fact sheets.
Tonn experienced difficulties the day of the event, not only because of the pandemic, but other setbacks as well.
"There was torrential rain the day of the event, a pandemic and I had a total knee replacement two weeks before the event," Tonn says. "Even all of that didn't dim our spirits."
Even with all the changes and setbacks, more than 275 people participated.
Service
County Farm Bureaus across Kansas do great work to offer benefits and services to members, including discounts to things that help their operations. Another part of service is connecting with those in the community who deserve a helping hand or a thank you for the work they do.
In Ellsworth County, the Farm Bureau knew healthcare workers were working tirelessly through the pandemic to care for those sick with COVID-19 in addition to others seeking medical attention. With Smoky Hill Cattlewomen and the Ellsworth County Kansas Livestock Association Committee, the Ellsworth County Farm Bureau set forth an effort to make healthcare workers feel appreciated.
"We all had to make adjustments when the pandemic hit, but our local healthcare workforce had the biggest challenges," Sarah Goss, Ellsworth County Farm Bureau county coordinator, says. "It's important we recognize our rural communities need more than agriculture to survive – a strong rural healthcare system is also imperative."
The groups grilled 250 hamburgers for healthcare workers at Ellsworth County Medical Center, Ellsworth County Emergency Management and Ellsworth County Health Department. This also gave them an opportunity to teach the workers about beef production.
"In addition to providing a service to our important medical professionals, we also educated about beef production with yard signs we had printed at our high school," Goss says.
This service showed gratitude where it was needed – to the healthcare workers during the pandemic.
"It's so important and valuable to our agriculture industry when we look outside our circle and offer sincere thanks to those who support and enrich our way of life," Goss says.
It's always important to support local businesses, and this year made it even more clear the need to give dollars and support locally. In Ottawa County, the Farm Bureau organization used local resources to make a big impact.
The county knew healthcare workers and nursing homes needed masks. They reached out to sewing circles in their community, purchased materials from a local quilting store and donated 105 masks.
"Personal protection equipment was getting thin in our community, so we saw the need, developed a plan and helped our community stay as safe as possible," Clara Mull, Ottawa County Farm Bureau county coordinator, says. "We also provided 75 masks to 4-H youth."
Whether providing support through masks, food or dollars, county Farm Bureaus did what they could to help where they saw a need.
In Johnson County, the board of directors for the county Farm Bureau knew they needed to help their community with food assistance.
"In one of our Zoom meetings, it was clear that the hardest hit in our community were those facing food insecurity," Lyneda Rogers, the county coordinator for Johnson County Farm Bureau, says. "Our board knew monetary donations were desperately needed so we searched for a way to make each dollar count."
The Farm Bureau knew they wanted to participate in the End Hunger Fund – a campaign from Kansas Farm Bureau to help food insecurity across Kansas – and wanted to take it further.
A partnership called One KC with two Kansas City TV stations, KMBC and KCWE, was a day of giving for local community members affected by the pandemic. The campaign helped raise more than $2 million for housing assistance, food, medical help and more.
"Our work with One KC taught us that, even when faced with uncertainty, our community perseveres," Rogers says. "Due to social distancing, we knew we couldn't physically volunteer like we have in the past, so we had to adapt and find a way to make a difference in the lives of those who were impacted the most."
Making a difference is what it's all about. County Farm Bureaus provide support in each Kansas community. They continue to take the wrenches life throws and adjust them to work for the situation, whether it's a normal year or 2020.
Other County Farm Bureau COVID-19 work:
Chautauqua County Farm Bureau: Teacher appreciation coupons for free drinks
Cheyenne County Farm Bureau: Chalk-a-Palooza in the Park
Douglas County Farm Bureau: County Fair donations; fed nearly 400 community members in one day; Week of Giving included monetary donations for turkeys, toys and local products, as well as adopting families for Christmas
Grant County Farm Bureau: Mask donation to FFA and 4-H members
Jackson County Farm Bureau: Popcorn giveaway event
Jewell County Farm Bureau: Gift cards to teachers for teacher appreciation week
Marshall County Farm Bureau: Tomato plant donations
Osage County Farm Bureau: Coupons for free drinks to local health clinics and pharmacies
Scott County Farm Bureau: Gift cards to local emergency management and health departments
Shawnee County Farm Bureau: Mask, gloves and Lysol donations to local businesses
Thomas County Farm Bureau: Snack bags and thank you cards to Thomas County Health Department and Thomas County Emergency Management
Wyandotte County Farm Bureau: Monetary donations to three food pantries and meals provided to ER and ICU workers at Providence Medical Center
---