Sustainable Farming in Southeast Kansas
How one farmer protects his land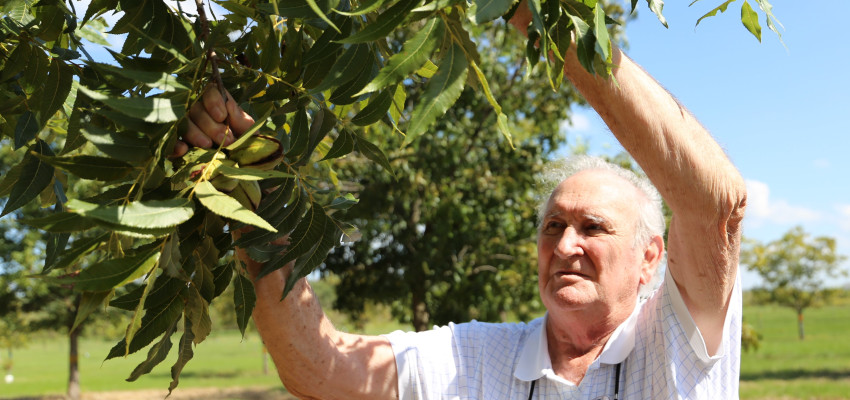 Despite growing up in an urban environment, Ted Cambern Jr. is anything but a city slicker. One of the owners of River Farms Inc. in Neosho County, Cambern regularly made the two-hour trip from Kansas City to spend time at the sprawling farm on the banks of the Neosho River.
"I had all the benefits of living in the city, but I could come down here and be with my folks, my grandparents or my children in a totally different lifestyle," Cambern says. "Much more relaxed. It's allowed me to have the best of both worlds."
Cambern has turned the 1,700-acre farm started by his great-grandfather into a laboratory, playground and family compound. Standing timber offers plenty of habitat for deer and quail, while acres of ponds give visitors plenty of opportunity to catch fish. For his efforts to preserve and improved the ground, River Farms received Kansas Farm Bureau's Natural Resources Award for exemplary stewardship of the land.
In addition to growing soybeans, corn and wheat in the Neosho River's fertile bottomlands, River Farms has a pecan orchard and a small cattle herd.
While it's important for the farm to produce income, its bounty extends beyond dollars and cents.
"All of us grew up down here hunting, fishing, doing what we could," Cambern says. We're just stewards of the property. For us to utilize that properly, we need to put something back. We're trying to do that with the timber, we're doing it with the pecans. We try to do it so we can make a little money off of it, but that isn't always possible. We're going to try to preserve this for our family for the indefinite future."
River Farms has been in the American Tree Farm system since the 1980s. More than 300,000 board feet of timber have been sustainably harvested over the last three decades. Cambern and his family have worked to improve the 200-acres of woodlands to grow desirable hardwoods. In 2017, River Farms undertook a timber stand improvement on 40 acres to improve the soil, reduce runoff and create the potential to harvest timber in the future.
In 1992, Cambern and his daughter, Cathy Cambern Schons, planted 350 pecan trees on an 11-acre tract that wasn't suitable for crops. "You couldn't even grow hay there," Cambern says.
It turned out the former borrow pit for a nearby highway was an excellent site for pecan trees. The orchard now supports Pike House Pecans, which markets the nuts through local convenience stores, family and friends. Pike House is also the name of the main home on the property.
"With the pecan fields, we really try to be respectful of how we spray and when we spray," Schons says. "Planting our timber stand, we try to help manage our water resources because we're right next to the Neosho River. Using trees that can survive in that environment as well as provide food and habitat for wildlife."
Cambern says a big reason River Farms is focused on preserving its resources is the family atmosphere it helps foster. The farm was incorporated in 1983 to allow the property to be passed on to family members.
"Now all of the children, grandchildren have some interest in the farm in addition to being able to come here and spend some time in the house," he says. "It's like living in a vacation property. There are plenty of things to do here."
Schons says conservation is very important to the younger generation of owners. Those family members are also being put to work restoring about 60 acres of pasture that was being overtaken by trees.
"We're trying to be a little bit more responsible and more timely in our care of controlling some of the invasive species … so that it's not taken over by buckbrush and scrub trees," Schons says. "It takes some chainsaw work. It involves getting some of those children a little bit dirty and a little bit muscly. But we do feed 'em after they're done working."
The majority of River Farms is used to grow crops like soybeans, corn and wheat. The family works with area farmers who've incorporated no-till – which means fields aren't plowed – and crop rotation to prevent the depletion of nutrients in the soil. Riparian forest buffers also filter runoff from fields to protect ponds, streams and the Neosho River.
The family behind River Farms has worked hard to make it a viable operation well into the future. While family members are always welcome, there's one date that always brings everyone to the farm.
"Any in-laws that become in-laws know that Thanksgivings are spent down here," Schons says. "That's just the way it is. There's enough that you don't have to be on top of each other. Everybody can go different places. We all have different things we like to do to help keep the farm running and in good shape."
Whether its growing crops, trees or cattle, each contribute in some way to River Farms. And Cambern knows that balance is important to keeping the operation a place where family members can come to relax and play.
"Altogether, those things create enough income that we're allowed to sit back and enjoy the property and the things that go with it," he says.
---