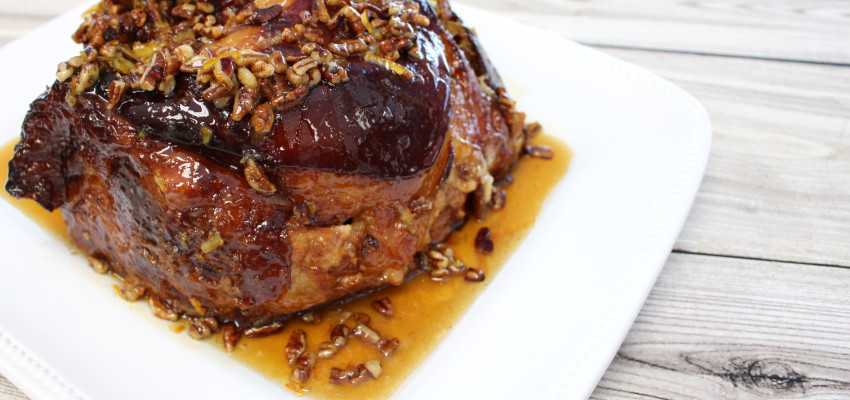 Ingredients
1 whole or half bone-in ham, spiral-sliced, if preferred
⅓ cup chopped, toasted pecans
12 oz. jar orange marmalade
8 oz. pure maple syrup
2 Tbsp. unsalted butter
Instructions
Line a large baking sheet with sides with two very large and long sheets of heavy-duty foil, laying them across each other, making an X. Place ham on its side in the center of foil or cut-side down in center if using a half ham. Wrap ham tightly in foil and place in baking sheet.
Bake ham in the preheated oven for approximately two to two-and-a-half hours for half of a ham or three hours for a whole ham. The internal temperature should reach 140 degrees F. (Cook 15-17 minutes per pound of ham.)
While ham is baking, prepare glaze. Place orange marmalade and maple syrup into a small saucepan over medium-high heat; whisk in butter until smooth, then stir in pecans.
During the last 15 minutes of baking time, unwrap ham and baste with prepared glaze. If using a spiral-sliced ham, be sure to press some of the glaze between the slices. Leave ham uncovered for remaining baking time.
---