By

Rick McNary

on

December 18, 2019
10 Things You May Not Know About Young Farm Women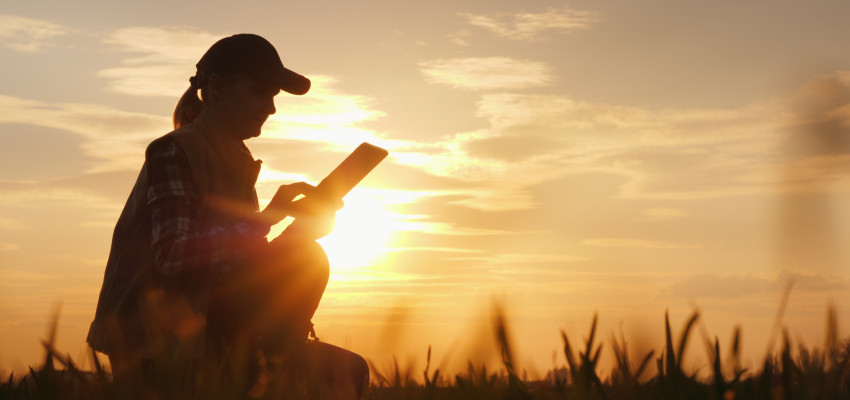 Before I started writing about farm families in Kansas, my stereotype of the American farmer was an old guy in bib overalls and a straw hat. I wasn't too far off considering the average age of a farm owner/operator is 58 years old. But there's a new generation of farmers coming on who are shattering that stereotype; young farm women who are taking their seat at the table, and oftentimes, that seat is at the head of the table. Here are 10 things I've learned about them.
1. They are entrepreneurs.
Every young farm woman I meet has an abundance of entrepreneurial creativity. They only get paid when the harvest comes in or the livestock are sold and those times can be few and far between. However, the young farm women I've met like Valerie Visser of Riley, love starting side businesses, such as The Fork in the Road that are incredibly successful. She started the Fork in the Road by offering vegetables for sale – on the honor system – off the back end of a flatbed truck at the fork in the road on Highway 24.  Her business has grown so much she just built a permanent building that still offers a variety of food products on the honor system.
2. They are the glue that holds the family together.
Family farming is just that; they do it as a family. Although you would assume it is the farm wives who are the glue that binds the family, I've discovered it's also the daughters, like Jacquelyne Leffler of Americus. These young, educated women who grew up on the farm are redefining their family farms as they now share in the owner/operator responsibilities. 
3. They are highly educated and articulate.
Mindy Young of Atchison is like many young farm women who have at least one, if not two or three college degrees. Jackie Mundt of Pratt won the National American Farm Bureau Discussion Meet and during the meet, spoke less time than her competitors, meaning she packed a lot of content into a few words – that's an art.
4. They are political.
Katie Sawyer of McPherson understands, like all farmers, that farming and politics go hand-in-hand. Katie, aside from working alongside her husband, Derek, in a farming and ranching operation, is also the state director for Congressman Dr. Roger Marshall.
5. They will fight back against the lies.
It is my opinion farmers are the target of some of the most outrageous smear campaigns in America (cow farts cause global warming?). There are fear-based marketing campaigns against the food they produce, activists who create false narratives about animal care (seriously, I've been in hog operations that were cleaner than my teenager's bedroom) and even sabotage a farmer's crops so as to destroy equipment. The women are not taking it; they are advocating, and they are doing it with such clever grace that they are starting to break through the misinformation. For example, Kim Baldwin and LaVell Winsor, with CommonGround Kansas, host yoga on the farm to invite urban woman to the farm to see for themselves. 
6. They are the ultimate orchestra conductors.
A farm operation is as complex as some of the huge machinery that works their fields and farm women are the master organizers of the activity that often starts at 5 a.m. with farm chores until 9 p.m. when the kids are tucked in bed. And during harvest season, they schedule life on the farm for 24-hours-a-day until harvest is done. 
7. They don't raise sissies.
The most striking image I have ever taken of a tough farm kid is of a five-year-old girl with a lollipop in one hand and a calf testicle in the other. Her family was working calves, which involves castrating bull calves to make them into steers. Those testicles are later fried and become Mountain Oysters – a delicacy to some. This little girl was taking the fresh-cut testicle and throwing them in a bucket with one hand and sucking on a lollipop with another. The mom, a true cowgirl as well as the owner of an upscale clothing boutique in a large city, laughed and said, "I bet you don't see too many city kids doing that!"
8. They are nutrition experts.
If you want to know which is healthier to eat – an impossible burger or real meat – just ask Katie Ingels, a strength trainer recently featured in Make Mine Meat. 
9. They are influencers.
Young farm women really seem to have this social media thing figured out and are building tribes of followers who trust them. It's my opinion there is not a more trusted voice in agriculture than that of these young farm women and evidence supports that. Brandi Buzzard Frobose of Greely sent a letter about the Green New Deal to AOC and it went viral. MSNBC went to her ranch and interviewed her. She has thousands of followers on various social media platforms.
10. They are tough.
Routinely, these young women handle horses and cattle that can weigh up to 1,500 pounds. I've seen a 5'1" woman stare down an angry 1,000-pound cow and win. As a result, these women are fearless.
There's a new generation of smart, savvy and passionate young farm women changing the face of agriculture. And to paraphrase a line from The Greatest Showman, "Look out, for here they come, and they're marching on to the beat they drum."
You might also like...
---