Prime Performance on the Farm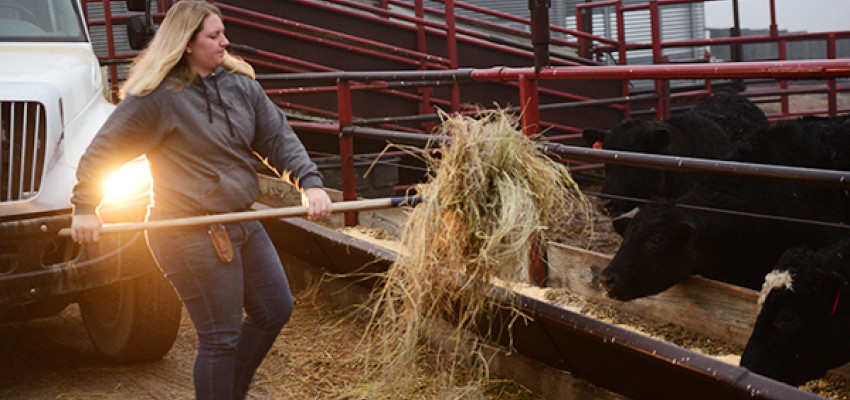 Jacquelyne Leffler of rural Americus had no desire to continue the family farm when she began college at Kansas State University. Although she was the fourth generation of her farm family, she had no aspirations of carrying on the farming tradition.
"Growing up on the farm and working on the farm are two completely different things," Leffler says. "When you're growing up, you don't have anything at stake. You do your chores, take care of your 4-H animals and help where you're needed. But it's a whole different thing when it becomes something you build your future around."
Instead of farming, Leffler intended to pursue a career in sports. She won eight Kansas State High School Association Championships in throwing events and held numerous records throughout the years in the shot put, discus and javelin. Heavily recruited by several Division I schools, she finally accepted the offer from Kansas State University. There, she acquired degrees in kinesiology, with an emphasis on sports medicine, as well as a degree in family studies and human services.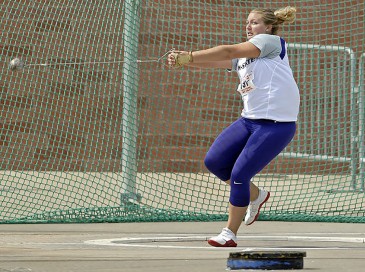 "Somewhere along the way I started making ag connections and I thought, 'Well, maybe the farm's not such a bad place to be after all.'" 
The most significant connections came through two leaders in the College of Veterinary Medicine.
"After church each Sunday, the dean, Dr. Ralph Richardson and his wife Bev, hosted 'lunch bunch,' which in turn became a 'home dinner table' for many student-athletes, professors and anyone else who may have walked through their door. Since I grew up on the farm, the conversation naturally leaned toward agriculture with Mr. Richardson. It just so happened that when he retired I had already made contact with the person who would fill his shoes."
At that time, she was also volunteer coaching at the Northeast Kansas Track club and one of the young athletes was Sam Hankins, the son of current interim dean, Dr. Bonnie Rush. Her husband, Kevin Hankins, was a veterinarian pharmaceutical representative.
"We had a lot of conversations and they showed me a different side of ag that really sparked my interest in animal science," Leffler says.
Jacquelyne tried changing her major after meeting these people, but due to the National Collegiate Athletic Association (NCAA) academic requirements for athletes on scholarship, her eligibility would have been at stake for her to change degrees that late in the game.
After graduating, Leffler moved back to the farm and continued to search for a career related to her degrees. She began work as an assistant coach at Emporia State University, then her grandpa, Wayne "Jackie" Leffler, broke his hip.
"I love sports and coaching made sense for me," Leffler says. "But after Grandpa broke his hip, he began to slow down. The decision had to be made about hiring some full-time help on the farm or me going into the business. I had to make the decision: Can I give up my love for track and field and pursue farming as a career?" 
She, along with her parents, Bill and Cindy, and sister Natalie, spent considerable time discussing various topics such as money, housing, workloads and responsibilities. Most importantly, could she work with Bill and Cindy as partners, not as parents?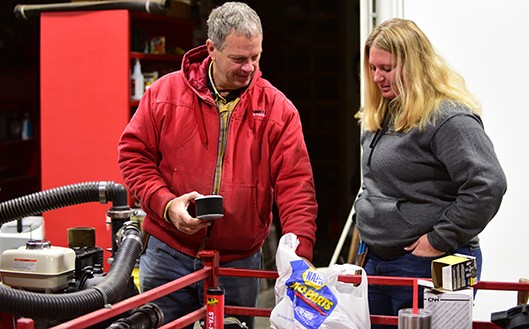 "Working together can be tough, especially when you work with cattle," Leffler says. "Sometimes you don't have time to be polite when a steer crashes through a gate and you have to yell at the person holding it. I also wanted to come back to this area, not as the kid who grew up here, but as the person I became in college. I'm not just the daughter of Bill and Cindy or the granddaughter of Jackie. I had to make decisions about which church to attend and what kind of community involvement I would have on boards and groups. I want to belong because I'm passionate and knowledgeable, not just because I'm part of the Leffler family."
This transition, as Jacquelyne points out, is not just about descendants taking over the farm, but about evolving the farm into the next generation.
"A lot of this wouldn't have come to me if I had not gone through Kansas Farm Bureau's Leadership class," Leffler says. "Jill Casten ignited a fire in me and connected me with different opportunities. In sports, it's easy to measure success with a tape measure, but now it's different. Success is measured by good business decisions and the sense of belonging in the industry and the community. When you do that, you thrive in life. I want to be just as respected in the industry as my dad and grandpa."
Another major influence and support for her is the Young Farmers and Ranchers (YF&R) group. The Kansas YF&R is part of a national group that provides opportunities in leadership, professional development, networking and competition in agriculture.
"I'm kind of competitive," Leffler says with a chuckle. "I went to New Orleans in January for the annual American Farm Bureau Federation convention and watched my friend, Jackie Mundt, compete and win the national championship in the discussion meet. For that competition, there is an opening statement, 20-30 minutes of discussion talking about a specific question, solutions and action, then the closing statement. You're being judged on courtesy, knowledge, content, clarity and how well you include others in the discussion.
"On the way to New Orleans, nearly every Farm Bureau board member sat next to me and nagged me to compete in the Discussion Meet at our state YF&R conference just a few weeks after the New Orleans conference. The next thing I knew, I signed up on the day of the deadline. They give you five topics and usually nine months to prepare, but I didn't have that kind of time. What helped me the most leading up to it was that I sit on the boards of various groups and had just watched Jackie win so I just tried to do it like Jackie."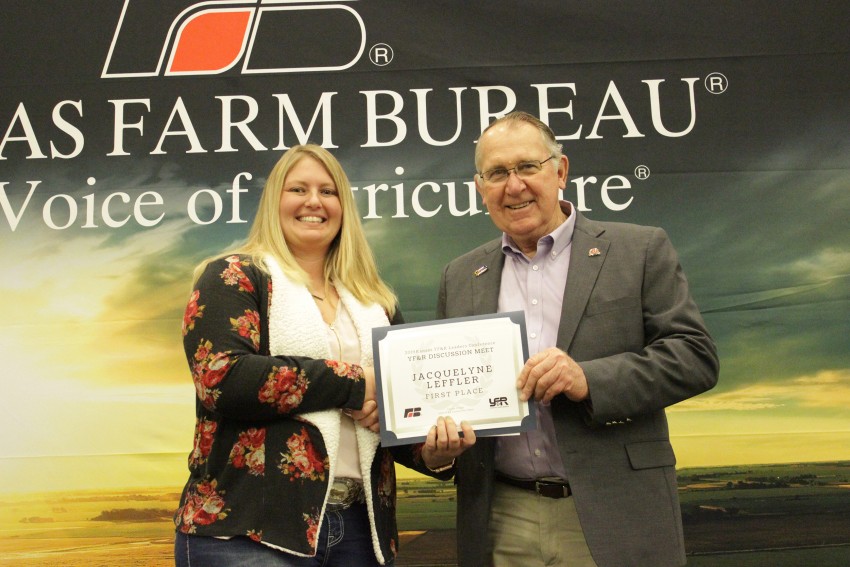 Leffler won the Kansas discussion meet which qualifies her to compete at the national Farm Bureau conference in 2020.
"My age group who want to go back to the farm are deeply passionate, hardworking and use technology to be more engaged and make better business decisions," Leffler says. "Whether it's social media, listening to podcasts or researching, we use technology to become better farmers and ranchers. My dad relies on my familiarity with technology to take the farm to the next level."
One recent addition to the farm, a state-of-the art Case IH tractor, has satellite technology and extra-wide flotation tires to minimize soil compaction and help work fields that are still wet. 
"The salesman came out the barn to see it after we brought it home and he asked what we were going to call it," Leffler says. "I shrugged my shoulders and said, 'How about Big Booty Judy?' Apparently, the folks from Goodyear also liked the name because they recently came out to do a commercial about Big Booty Judy."
Jacquelyne, like many young farmers and ranchers I've met, combine quiet confidence with genuine humility. You would never know, in talking with her, that she's competed, and won, in the largest national collegiate sports competitions in America. And had she not suffered career-ending injuries, she could be competing now in world championships. Instead, she bundles up on a cold winter morning and climbs into the cab of the feed truck with as much enthusiasm as if she were climbing the winner's podium. While driving down the alleys, she talks passionately, and affectionately, about the future of the farm.
"I still have the privilege of learning from the real experts on farming and ranching, my dad and grandpa," Leffler points out. "My first summer after college, I helped my grandpa build a set of pipe corrals and it seemed to take forever because he was so meticulous. But now, when I drive by those pens, I realize what I learned from him about being patient and doing your best work. Although Grandpa's living in town now, he calls every morning at 6:15 to check on the activities of the day and will come out to make sure we're doing it right. Dad does the same thing when he's gone. In fact, he took Mom on a vacation and accidentally took his phone into the hot tub with him and couldn't call home the entire time. It about drove him nuts. But Grandpa and I had things under control."
In some ways, Leffler is like other farmers and ranchers who, at the core of their being, are entrepreneurs. She has formed a company on the side, Leffler Prime Performance, which combines her two loves; raising beef and personal athletic training.
"I raise prime cattle for people wanting to buy local, hand-raised beef," she says. "I also provide one-on-one performance coaching for athletes who are in training. I want to help athletes and those just wanting to stay fit obtain their maximal potential."
In other ways, Leffler is unique as she works alongside her family to take the farm to the next generation because she represents the changing demographic and stereotype of the American farmer; women operators.
In agriculture, those who run the farms are known as operators, rather than CEOs or presidents. Although women have always been involved in agriculture because farming is a family affair, the number of women operators is on the rise. Approximately one-third of farmers in America are women.
As a person who was not raised on a farm but have had the unique privilege of telling their stories over the last three years, I'm continually amazed with the quality, passion, education and expertise of the younger generation of farmers and ranchers upon whom our future food supply depends. If you don't know any of them personally, I would encourage you to contact your local Farm Bureau and ask them to make an introduction for you. These farmers and ranchers are excited to tell you their story.
Jacquelyne would love to show you their intricate science of feeding cattle, how precise they are in planting and harvesting crops and, yes, she would be delighted to show you Big Booty Judy. 
But I get the sense that if I ever challenged her in any kind of competition, I'd probably lose - she's that good at everything she does.
And that's exactly the type of person I want growing my food.
---
---