By

Rick McNary

on

September 24, 2019
Mundt leads others to share their story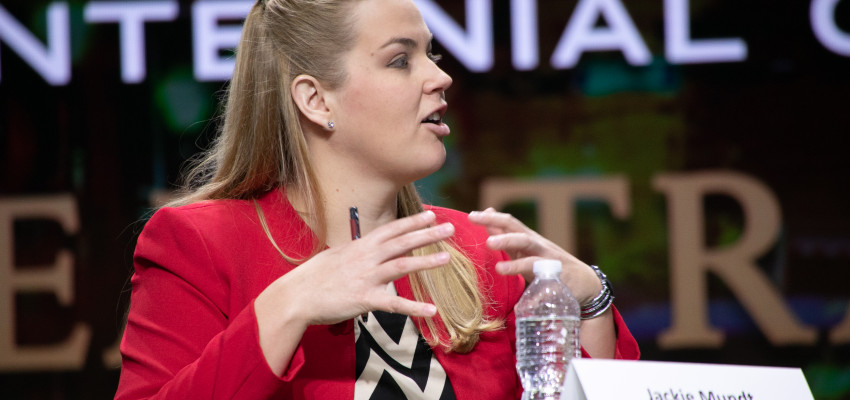 There are two kinds of champions: arrogant or humble.
Arrogant champions are boastful, proud and assume their success is due to individual, herculean effort.
Humble champions quickly attribute success to teammates, colleagues, coaches, community members or others in their circle.
Jackie Mundt, of rural Pratt, is a humble champion. She took first place at the 2019 National Young Farmers and Ranchers (YF&R) Discussion Meet during the 100th Annual National Farm Bureau Convention in New Orleans.
"We are given five questions to prepare for a discussion meet," Jackie says. "Then at the meet, we are judged on how well we know and can articulate our content. It's not just about being able to speak well, but to get ideas across, listen to others, disagree with someone that is civil but effective and move the conversation down the line. Oddly enough, as was in my case, the person who speaks the least amount of time often wins."
Discussion meets are not new to Mundt, who grew up on a dairy farm in Wisconsin. She won her state FFA Discussion Meet as a senior in high school, then went on to win discussion meets in Collegiate Farm Bureau during college.
"I've been told it's best to take a few years off after college before trying the national competition," Mundt says. "I decided last year to try, realizing I only have three years left on my age eligibility."
In order to qualify for nationals, Mundt first won the Kansas YF&R Discussion Meet.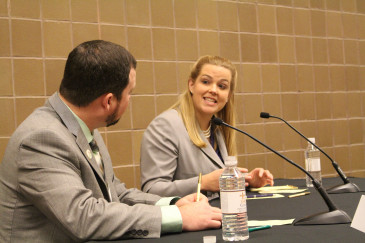 The five questions were:
1. In our modern world, the rapid dissemination of information and opinions about agriculture and food technologies can make it difficult to distinguish fact from fiction. Given these challenges, how can Farm Bureau best protect farmers' and ranchers' access to production technology options?
2. As the Voice of Agriculture, how can Farm Bureau be more inclusive of all agriculture and production practices? This includes, but is not limited to, women in agriculture, organic production, fresh produce, forestry and aquaculture.
3. Technology is one of the driving forces for innovation and advancement in agriculture. How can the industry attract the best and brightest minds from STEM (Science, Technology, Engineering and Math) into agricultural careers?
4. Money talks. How can farmers implement market trends and develop responsive business plans to generate value-added ventures and farm profits?
5. Associate members are a driver of new ideas and support. How do we create membership value and broaden the base of supporters in the Farm Bureau family?
"When an athlete trains, they spend enormous amounts of time and focus on their sport," Mundt says. "I do the same thing in preparing for a discussion meet. I have always been very driven. I read, research, talk to people, go to meetings and schedule one-on-ones with industry leaders in intense preparation."
A favored training discipline for her is to educate and encourage participation with younger Farm Bureau members for state YF&R discussion meets. One such student, Jacquelyne Leffler of Americus, credits Mundt for her success.
"I went to New Orleans in January for the Annual Farm Bureau convention and watched my friend and coach, Jackie Mundt, compete and win the national championship for discussion meet," Leffler says. "On the way to New Orleans, nearly every Kansas Farm Bureau board member sat next to me and nagged me to compete in the discussion meet at our state YF&R conference just a few weeks after New Orleans. The next thing I knew, I signed up on the day of the deadline. I watched Jackie win, so I just tried to do it like Jackie."
Leffler won the Kansas Discussion Meet, which qualifies her to compete at the National Farm Bureau conference in 2020.
"The best part about preparing is the combination of research and conversations with industry experts," Mundt says. "Kansas Farm Bureau, Kansas Department of Agriculture and Kansas Corn were extremely helpful in making connections for me with the leaders in various industries. It also gave me a chance to reconnect with a few folks I haven't talked to for a while. By the time of the meet, I have a binder full of all kinds of notes."
Mundt has been engaged in various agricultural groups since her youth on the farm; most notably, FFA.
"I was a state FFA officer after high school, then I was elected to be a national FFA officer," Mundt says. "I took a couple of years after high school to engage with FFA across the nation and waited until I was finished before I went to college. That was a good move for me because agricultural colleges were very interested in me. Fresno State in California offered me the best opportunity, so that's where I went. I loved every minute of it.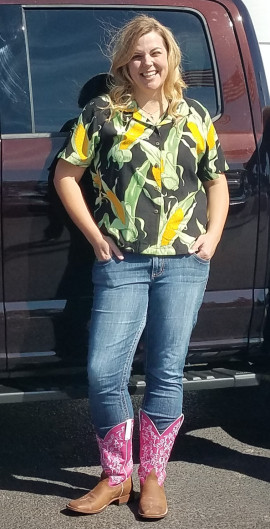 "Like a lot of college students, I didn't know what I wanted to do when I started college," Mundt says. "They had an Agricultural Communications degree that required you to know a lot of information about a variety of topics, so I chose that area of study. I was surprised because my strongest skillsets had always been in science and math, but I discovered communications is my strongest skill.
"I love the discussion meet because it helps me be effective in developing the skills we need for our organizations and industry."
Mundt would give people in agriculture advice about telling their story. When people sought her advice, she replied like the expert coach she is; she started asking questions.
"If someone wants to tell their story, I think they should ask themselves some questions. 'What's your comfort level? Big crowds or small groups? What is your objective in telling your story?' Asking those questions will guide you. Do you want the general public or just your friends to hear? Do you have role models, and can you take some of what they do and make it yours?
"One of the challenges in telling the story of ag is truly understanding what the audience wants to hear," Mundt says. "What people want to hear is a moving target, so we have to stay sharp, listen and, when we tell our story, be relevant.
"I believe writing is one of the most important skills we can have. Writing makes you organize your thoughts and put them down in a coherent fashion. It's an area of continued professional development for me and think it's a skill often ignored. Writing is hard work, but it is key to becoming a better storyteller."
Mundt won a new Ford truck for winning the National Discussion Meet. She let her significant other, Marc, pick the truck out.
"I kind of turned that whole thing over to Marc," Mundt says. "I said something to him the other day about our new blue truck and he looked at me and said, 'Blue? But I ordered red.' So red it is!"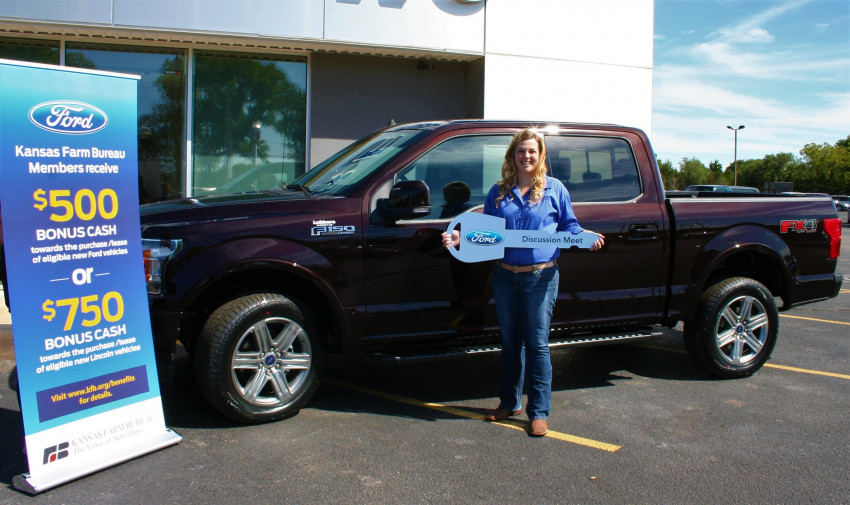 Although Mundt is the best in the nation at what she does, she has decided to lay the pursuit of awards aside for now.
"There are things I can do to impact the world around me and projects I can take on that will be fulfilling," Mundt says. "I want to help my community. I want to be more involved in the service of feeding the world and helping develop leaders."
You can be assured she will bring the same passion and focus on impacting the world that has repeatedly made her a champion.
You can look for her in a new, shiny red truck. Check the back seat; there will most likely be several binders crammed full of notes. And when she leaves, you will have an overwhelming desire to excel in whatever you are doing. That's the effect of humble champions, like Mundt, have on the people around them. Just ask Jacquelyne Leffler.
You may also like...
---