By

Rick McNary

on

October 19, 2015
Finding new opportunities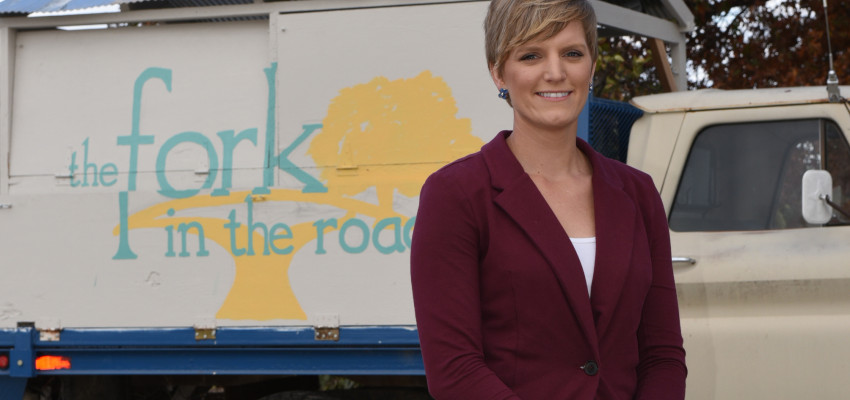 Valerie Visser became an entrepreneur watching her parents adjust to the collapsing hog market in the early '90s on the family's northwest Kansas farm. Her parent's creativity­--fueled by a passion for farming--generated new products and new markets.  
"I grew up with the confidence that if there is not a market, or you can't find one, then you can make a market," Valerie said.
Valerie uses the same ingenuity to create opportunities with her emerging business – The Fork in the Road. Valerie is one of three Kansas Farm Bureau members who applied for American Farm Bureau Federation's 2016 Rural Entrepreneurship Challenge.
Her husband, Justin Visser, is a fifth-generation farmer near Riley. While attending Kansas State University, she responded to his ad for part-time help on the farm.
 "I don't think too many women applied for the job; he was a little surprised that a girl could drive a combine. So, now were married and I work for free," she jokes.
Valerie began gardening for Justin and their two small boys – Samuel and Jeremiah – in 2008. In 2014, she planted extra vegetables to sell. Since the only farmer's market is 30 miles away, she created her own market. She set up a sales stand on Saturday mornings for her garden produce, baked goods and home décor beside a fork-in-the road off Highway 24.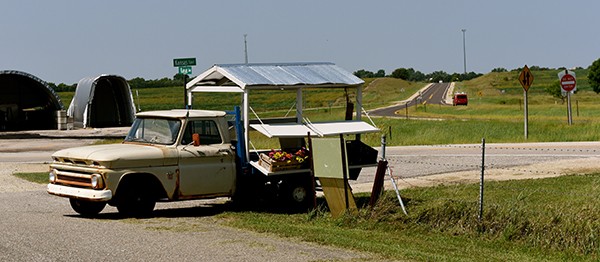 She expanded the garden in 2015 to add more varieties.
"With the expansion of Fort Riley in the '60s and the city of Manhattan growing, land is more difficult to come by," Valerie said. "We are challenged to use the same land, but to think of growing different things to provide future economic opportunities, especially for our two young boys.
"I tripled the size, but now I'm selling five times as much. I even added flowers. No matter how bad the day, a vase of fresh-cut flowers brightens my mood."
However, produce ripening daily cannot not wait for Saturday, so she built a produce stand on the back of a '63 Chevy truck then parked it by the road. She fills crates daily with the morning's harvest.
Customers pull off the highway, handpick their produce, weigh it on small scales and pay on the honor system. Nothing goes to waste because Valerie creates salsa and sauces for her own family from vegetables not chosen by customers. Flower arrangements in mason jars are also available.
Valerie is now testing the market for a community-supported agriculture (CSA) model. There is a questionnaire beside the scales for her customers to fill out.
 "Before I offer something, I want to know if people are interested. The questionnaire asks what people want, how often they want it and how much they are willing to pay. Any good business needs to understand the desires of the market.
"My heart goes out to moms. It's hard for super busy moms to plan and make nutritious meals. To take time to make supper means you're not spending that time doing something else. I'm putting a package together with GTB Custom Meats in Riley that will include a week's worth of six ready-to-cook meals for four people."
In addition to providing the access to nutritious food for the community, Valerie is passionate about educating people about agriculture.
"I hear people criticizing big ag and they don't realize they are talking about me and my family. Some people think farmers are hiding things, but the truth is farmers are kind of introverts and have way too much work to do to sit and talk with people.
"Justin's family was one of the first to utilize no-till farming, cover crops and intensified rotational grazing. We care deeply about sustainability because this is our life and the future of our children," Visser explains.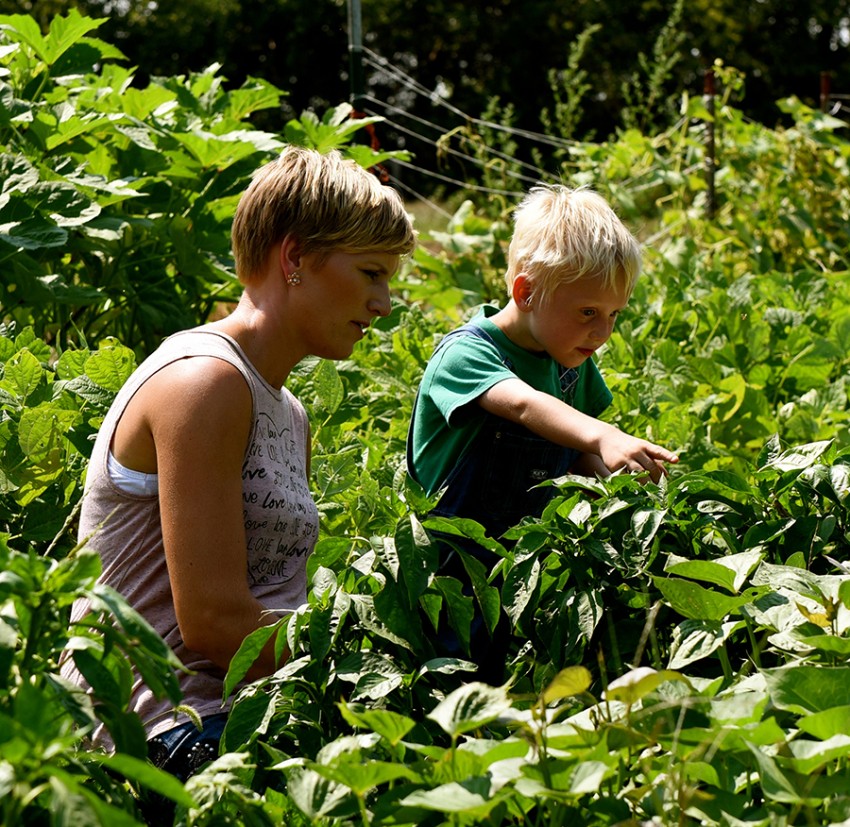 Valerie digs a handful of loose soil and lets it trickle through her fingers.
"It all starts with the soil," says Visser. "I adjust my crops to different soil types and use various techniques to improve the soil each year.
"I've come to appreciate how important it is to have a strategic plan to make sure I build an integrated agriculture system of plants and livestock. Planning gives Justin and me a chance to make sure we're on the same page."
She is converting an old hog-farrowing house into a greenhouse and empty pens into more land for growing produce. She will also integrate chickens and bees into her garden. Included in her plans are u-pick berry patches, fruit orchards, a pumpkin patch and corn mazes.
Valerie's plan is to create a destination business for customers to experience spending time on a farm.
"I want people to pick berries or fruit and begin to ask question about other activities on the farm like harvest, cutting hay or planting. I can't share with the whole world, but I can with my community and if everyone did that, it would help inform people and influence policies."
Currently, her marketing is through word of mouth, people driving by Facebook and a website. A large sign rests on sawhorses in her basement waiting for the finishing touches so they can erect it along the highway.
Valerie takes a variety of classes when time permits, but finds her greatest educational resources are within her own family.
When asked what she would say to other women in agriculture, Valerie replied, "I want women to understand I don't have a perfectly clean home, a well-manicured lawn or a weed-free garden. But I do get to teach my children how to grow plants, take care of the soil and livestock and how to create business opportunities for their future on the farm."
With growing national concern over the transition of the family farm from one generation to the next, Valerie and Justin Visser are reassuring examples of the entrepreneurial spirit required to ensure sustainability.
---