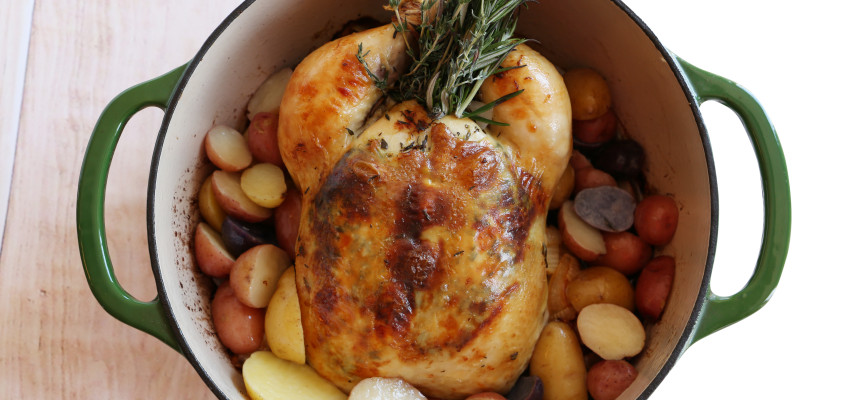 Ingredients
This recipe originated from Ina Garten, The Barefoot Contessa. Her recipe was delicious, but I wanted to add herb butter to the breast of the chicken — a fun technique for increasing both flavor and moisture.
1 roasting chicken (4-5 pounds), rinsed well, patted dry
Kosher salt and freshly ground black pepper
2 lemons, quartered
1 whole head of garlic, cut in half crosswise
Good olive oil
1 bundle fresh herbs for poultry (approximately 1 oz.), divided use (I like rosemary, thyme and sage together)
1 yellow onion, quartered
1 yellow onion, sliced
Herb Butter
1/2 cup unsalted butter, softened, combined with 1 Tbsp. minced fresh poultry herbs
Instructions
Preheat oven to 425 degrees F.
Liberally salt and pepper the inside of the chicken.
Place two or three lemon quarters into the chicken cavity along with both garlic halves, onion quarters and half of the herb bundle, allowing the herb bundle to partly protrude from the chicken cavity.
Using kitchen string, tie the chicken's legs together to hold in the aromatics you've placed into the cavity. At the front of the chicken, tuck the wing tips under the body of the chicken.
Using your fingers, gently loosen the skin from the chicken breast, then place one half of the prepared herb butter over each side of the breast meat, beneath the loosened skin.
Brush the outside of the chicken with olive oil and sprinkle the chicken liberally with salt and pepper.
Place the chicken into a greased Dutch oven. Place the reserved sliced onions and lemon quarters around the chicken in the Dutch oven, then drizzle with a bit of olive oil.
Roast the chicken uncovered for approximately 1 hour and 15 minutes, or until the internal temperature of the chicken breast reaches 150 degrees at the center.
Remove the chicken to a platter, cover well with aluminum foil and allow to rest for 10 minutes so the residual heat can raise the final internal temperature of the chicken to a safe 160 degrees F. in the breast.
Carve the chicken and serve topped with any accumulated pan juices.
You may also like...
---