By

Chef Alli

on

March 3, 2021
6 reasons you need an air fryer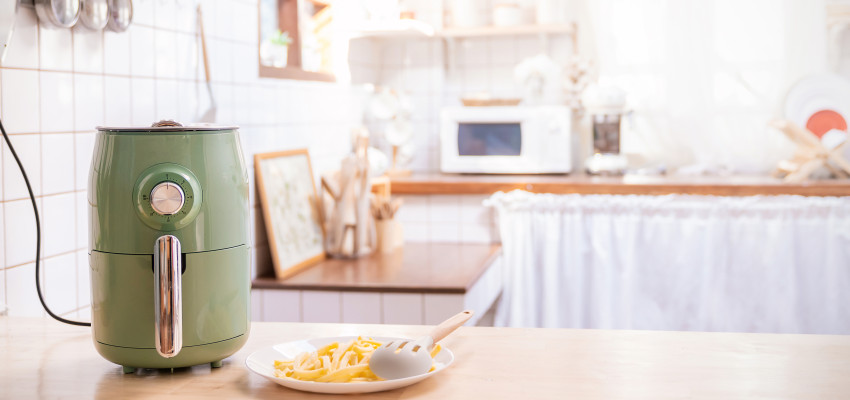 1. Multipurpose cooking 
An air fryer isn't used just for fried foods. We use it for grilling, roasting and baking. I've recently made a deep-dish quiche in just 25 minutes, angel biscuits, chimichangas and five-minute sugar doughnuts, just to name a few.  
2. Less fat and fewer calories 
Because air frying uses circulating hot air and not oil to cook our favorite foods, we consume less fat and calories without sacrificing flavor, taste and texture. Everything gets crispy, crunchy and beautifully browned, yet nary a bite is submerged in deep-fryer oil.  
3. Feel the need for speed (cooking) 
No preheating is required when cooking in the air fryer. Simply turn it on, pop in whatever you're hungry for, and go. The air fryer is instantly hot and ready for service. Talk about a huge time savings for busy moms. 
Speed cooking is one of the biggest reasons we've fallen in love with our air fryer. Foods cook very quickly. Roasted broccoli, marinated steak bites, French bread pizza are some of our favorites, all cooking to perfection in just five minutes.  
And bacon fans will be excited to know you can have crispy, wonderful bacon in a mere eight minutes.  
4. One cool kitchen 
Is there anything worse on a hot summer day than to have to turn your oven on to cook dinner? With the air fryer, all the heat is contained in the unit.  
5. Shift eating 
I don't know about your family, but mine seems to eat at all kinds of weird times of the day and night, even though we do try our best to sit down together for a meal as often as we can.  
 
I call it "shift eating" and because of this, the air fryer is quite perfect for our family of five because it's often just one or two of us at a time who are eating. Nobody feels bad about cranking up the air fryer when you're cooking for just one. 
6. It's a new day for leftovers 
And this may just be what I've realized is best of all: leftovers are like new again! It feels magical.  
I am no longer throwing out leftovers that have been abandoned in the fridge. Leftover pizza becomes crispy once more instead of soft and mushy after being reheated in the microwave.  
 
A slice of quiche gets all bubbly and golden brown on the top, leftover French fries and chicken tenders are perfect and crunchy again in just a couple of minutes, and your favorite restaurant tortilla chips can be made crispy again within seconds.  
---